Super Mario Bros Movie Review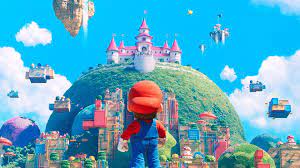 With perfect animation, a great soundtrack, and wonderful story, the Mario Movie beat my expectations by a long shot. This review may contain spoilers so, if you're interested, I would definitely recommend watching the film before you read ahead.. 
The Mario Movie was action packed and filled with so much fun.  Throughout the course of the film, viewers get a chance to see many of the franchise's classic characters and all the Mario world. Additionally,  power ups from the games like, the mushroom, fire flowers, ice flowers, and even the all powerful star were showcased. To the delight of fans, the movie also showed Luigi's mansion for a few moments as well as Donkey Kong's world, Mushroom Kingdom,  and Bowser's Castle. 
The sound track was perfected in this movie. The film was filled with songs and effects present in the games, as well as critically acclaimed Peaches, written and performed by Bowser's voice actor Jack Black. 
The cast was for the most part well done.  Jack Black was perfect as Bowser, Toad was voiced by Keegan Michael Key, and Seth Rogan voiced Donkey Kong. 
However, despite these strong cast choices, Mario voiced by Chris Pratt in the movie felt a bit off from the character. In the beginning minute or so of the movie, Pratt uses Mario's characteristic  Italian accent, however he then goes back to his normal voice for the remainder of the movie.  In my opinion, Anya Taylor-Joy's performance as Princess Peach was a little disappointing as she didn't sound like her previous voice in the games.  The most egregious of the voice acting, though, was Charles Day as Luigi. While characteristically a quieter character, when he did speak, his voice felt inaccurate to the character.  All in all, the cast had some good and some bad. 
Overall, I recommend you go watch this movie. It was well made and everything leading up to it, like Nintendo World in Universal Studios, have been exciting to old and new fans. So, if you're looking for some lighthearted fun, give the Mario Movie a watch!