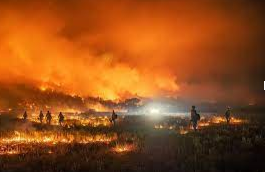 On Monday, Aug. 21, 2023, California experienced a rare hurricane, leaving backyards flooded, dirt roads unrecognizable, and numerous properties water-damaged. Later in the evening, a 5.1 magnitude earthquake shook Ojai and the rest of Southern California. On July 30, 77,000 acres burned along the California and Nevada border. Many natural disasters have recently struck our local communities, and with the Maui fire devastating Hawaii, we are reminded that preparation for any natural disaster is crucial. 
On Aug. 8, 2023, a brush fire started around 6 a.m. (Pacific Standard Time) in Maui, Hawaii, striking the city of Lahaina the hardest. At 9 a.m., the Hawaii Fire Department reported that the fire was 100% contained. The incident caused 100 deaths, 1,000 missing people, and a lawsuit. The lawsuit claims the unmaintained electrical system/ power grid and the fallen power lines ignited the brush fire with the strong winds. The fire destroyed two thousand five hundred acres, 1,719 buildings, and hundreds of homes. 
As of Sept. 2, 2023, Authorities in Hawaii report that 388 people are still missing, with many experiencing shock and PTSD. Civilians hope tourists stay home and "give them the chance to rebuild" their beloved home. 
Evacuating looked different for everyone on the Island. Some had no way of getting to safety; jumping in the water and waiting it out was the best solution. Some drowned from exhaustion, and the smoke suffocated others. Authorities had no way of letting residents know that a fire was coming straight towards them in time. 
"…fire moved so quickly that it was impossible to relay messages to the agencies responsible for emergency alerts," said Brad Ventura, Chief of Maui Fire Department. There was no way of persevering homes or getting everyone off the Island in an orderly fashion quickly. Around 15,000 residents evacuated on planes. Maui provided 25 buses shuttling tourists to airports around the clock, hoping to get everyone off the Island and to safety. 
To maximize safety, knowing the signs of when to evacuate is crucial when it comes to natural disasters. Especially in California, knowing how to evacuate a fire is essential. 
To evacuate as quickly as possible when an emergency hits, follow authorities' advice to evacuate as quickly as possible as it helps with congestion in local streets and allows families to get out safely. Packing an "evacuation bag" is another way to ensure a quick evacuation. 
Keep items such as a flashlight, a change of clothes, money, batteries, water bottles, and anything else needed in a bag ready to be quickly grabbed. 
When dealing with a fire in a home, shut all doors, windows, and vents to prevent sparks from flying inside the house. Cover windows with less-flammable material outside and move combustible furniture away from the house's exterior. Turning on all the lights makes the place visible, even with smoke swallowing the home, so people can know there are still people inside.
Students should be well equipped on how to handle a natural disaster while being at school. William S. Hart has a strict natural disaster evacuation procedure to get students safely out of harm's way. Faculty is responsible for getting students safely out of the classrooms and to their assigned assembly areas. Each teacher has a safety bag for any emergency, a red emergency folder, a class roster, and an orange room number sign. After calmly getting to the assembly area, students sit on the grass and patiently wait for their teachers to call their names for attendance. Staff will then report if any students are missing and use 'Crisis Go' to find the missing students.
Here at Castaic High School, we experience fires regularly, with the Grape Vine frequently affected by fires and the brush fires we experienced during the 22-23 school year. It is essential to know how to be prepared and keep safe. Facing natural disasters is a devastating event, and following simple procedures to keep your home out of harm's way can make the most significant difference.