Promposal Gone Wrong
Mia Souther, Chief of Staff, Editor of Wellness
March 31, 2023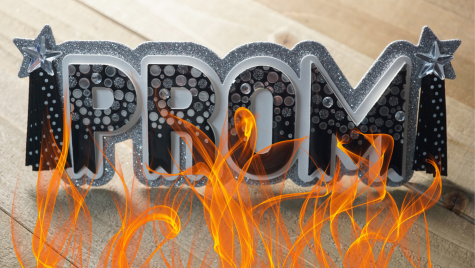 On March 9th, Castaic's Student Body Association (SBA) announced a $1,000 reward for the best promposal. Those interested in entering are encouraged to post on social media using the #SBAPromtastic2023. So it was no surprise when several grand promposals started happening on campus.
Jaecob Stunley might have had the most lit idea.  
"My little baby Cobe cupcake asked me to drive him to the firework stands in Ventura, and of course, I said yes!" shared Deborah Stunely, mother of Jaecob Stunely.
Stunley's promposal plan was to blast "Firework" by Katy Perry while setting off fireworks in the school parking lot at 10:30pm. 
However, things took a turn at 10:34 according to the Castaic Police Department when the fireworks were lit. The sparks flew everywhere. Several items went up in flames including several bushes and Stunley's prom date's hair. 
"My hair literally caught fire like my messy bun was a campfire but I don't care, this was super duper cute," said Jaecob's date who prefers to remain anonymous. 
"I tried to stop, drop, and roll but honestly I didn't want to ruin my new dress," she continued. 
While the fire was quickly contained and eventually extinguished, Stunely could be facing arson charges especially since there was bodily injury.
Castaic High School has yet to speak out on the event. However, it's rumored they will be launching a promposal approval form to prevent another disaster. 
In terms of the student body, many are not taking this issue seriously. 
"He could set my hair on fire and I would say thank you" disclosed Madisen Semth.
The local fire department has warned students to carefully consider the safety of their promposal ideas before executing them. They have even offered to make a fire safety video in response to student behavior. 
There is no doubt this calamity will go down in Castaic history. 
This is a work of satire. Any names of students or staff are fictitious. All events or incidents included are fictitious. References to Castaic High School clubs, classes, or policies are satirical in nature. This work is not intended for informational purposes.