A Wild Western Night: Castaic's First Hoco
Howdy! On Sep. 10, Castaic High School hosted its first ever Homecoming Dance, with an Old Town Road theme. An estimated 600 students attended wearing their Best Bib and Tucker; Some even donned cowboy hats and boots.
"The energy is amazing," said ASB President Isiuwa Aimiuwu. "Myself and other ASB officers came five hours before to set up in order to have an amazing dance and it turned out that way! I'm really proud of ASB."
The entrance to the dance featured a sleek red carpet with hay bales scattered around, and the attractions included a mechanical bull students could ride. The ride was a big hit! 
"The mechanical bull looked easy, but it's hard!" exclaimed Freshman Nicole Mobasser after attempting to ride the bull.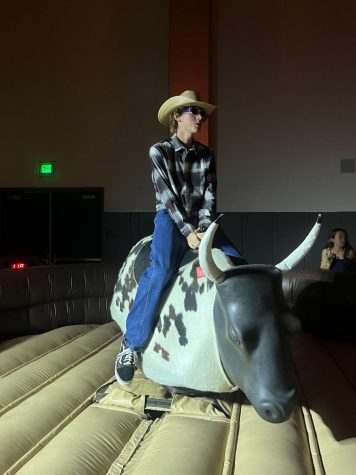 At first, the students were hesitant to start dancing. However, as soon as the DJ blasted Cotton Eye Joe from the speakers, students were lassoed onto the dance floor and began line dancing. From oldies like Shake it Off by Taylor Swift to more current pop such as Get into It (Yuh) by Doja Cat, the music motivated students to get out on the dance floor. Although, not all students enjoyed the music selection. 
"It's okay," said Junior Chloe Coffey. "They definitely could've chosen better songs."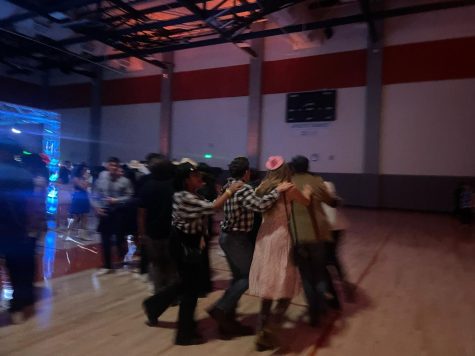 The DJ made sure to include a slow dance and played Perfect by Ed Sheeran after the Homecoming Court was announced. ASB Director, Mr. Overdevest, crowned Nelson Morales as Homecoming King and Sophia Crawford as Homecoming Queen. 
In the weeks leading up to Castaic's first homecoming dance, the anticipation among students grew rapidly. Flurries of Hoco proposals occurred on campus. Students brought handmade posters, candy, and flowers to ask out their dates. However, many students were concerned about the forecasted rainfall. 
"We were going to have rain, so the dance moved inside," said ASB President Amuiwi. Due to this weather forecast, the event was moved from the Courtyard and into Castaic's gym, otherwise known as the Wild West.
"Especially with the previous day's weather, I understand it," said Junior Dunstan Joseph Leogo. Despite the preparation, the rain stayed away, allowing students to enjoy the outdoor food trucks and fresh air. 
With their ticket, students could get complementary mini donuts provided by Dazzling Donuts and a free snow cone from Kona Ice. The weather was hot and humid, making that ice-cold treat particularly appealing to students. This resulted in a long, yet quick-moving line for the famous snow-cone truck,  until the machine malfunctioned. Some students waited at least an hour for it to be fixed. When the machine started up again, the students cheered. The wait seemed to have been worth it!
"It was refreshing," said Senior Jonah Wilson, who had waited in the line for over an hour to get his Kona Ice.
Other students opted for the free donut treat. Even students who normally might not have tried it. 
"I'm technically vegan, so I'm not supposed to eat them," confesses Senior Taidyn Higgins. "They're pretty good though. Solid 8.5 out of 10." 
Burger Planet was the dinner option for the cowboys and cowgirls attending the dance.
"The burgers are scrumpdillyicious!" exclaims sophomore, Nick Hicks. Overall, he claimed that the Burger Planet wasn't as great as it could've been. "It's mid, but the fries are a little salty."
Along with the food trucks found at the dance, many students will remember this night by the photos they took with their friends. 
"It's pretty nice," said Junior Dunstan Joseph Leogo about the traditional photo booth that included props like silly hats. Not only was there a regular photo booth, there was a western themed backdrop with blowup animals where students could also take pictures. The setup had a ring light, so students could get the best lighting for their photos.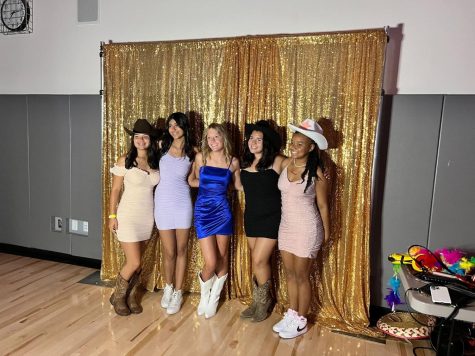 "It was just fun," summed up Homecoming King Nelson Morales. The students at Castaic's first Homecoming dance had a Hog-Killin' time! Let the countdown begin until the school's winter formal. Yee-haw!