Castaic's Varsity Tennis Team: Rallying Against the Odds
Castaic's freshly painted tennis courts are practically invisible behind the vacant 700 buildings and crowded cafeteria. But the varsity tennis players are all too familiar with their daily steep trek up to the courts. Sitting just in front of the baseball field, the courts serve as a daily reminder of the team's roots and growth. Castaic's team has come a long way since its start in 2020 and is setting a precedent of endurance and perseverance for years to come.
The varsity tennis team has had the odds rallying against them since the beginning. The team was born during the peak of Covid during the second year of a new school, which left the varsity players to start from scratch on Zoom.
"Through Covid, we would do Zooms every Thursday at like 3:00 or 3:15," said Tennis Senior Co-Captain Jaden Austria, "… and it was really weird because we would do, like, workouts on Zoom… but like, other than that, we would just talk about tournaments going on around the world like Grand Slams and stuff like that, so it was pretty cool." 
While tennis on Zoom was unconventional, it didn't stop Castaic's brand new varsity team from working out, training, and learning new tennis strategies. 
During the fall semester of the 2020-2021 school year, the players would track their at-home workout routines, meet in person on the tennis courts while socially distancing, and attend weekly Zoom meetings to discuss stroke technicalities and gameplay.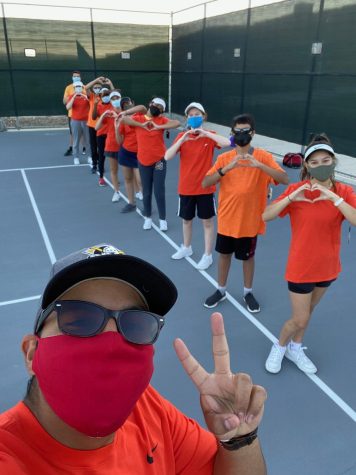 Austria has been a dedicated member of the team since its beginning in her sophomore year and has experienced all of the team's transitions: from Covid to coaches.
"For me, [the shift from online tennis to in-person tennis] wasn't as unusual because I was already playing outside of school during Covid," said Austria, "but it was weird seeing everyone from Zoom in-person." 
Lindsey Nguegang, a junior doubles player who has also been with the team since 2020, agrees, admitting "[the transition] was honestly pretty difficult at first. It was bizarre going from learning about tennis, its rules, form, and how you're supposed to hit, and actually going and doing that. I realize it was a big learning curve because things aren't as easy as you think it is. Even though you learn about the form, you can't just perfectly do it the first time."
Aside from a shift from online to in-person tennis, the team no longer has its original set of coaches. This year, Coach Ahn and Coach Rob are leading the team.
"I started tennis when I was in eighth grade," Coach Daniel Ahn told The Daily Howl, "I played in high school. I played JV and Varsity. It was one of my best experiences in high school. But coaching-wise, I've never coached a team. [I've just helped] out my friends play tennis individually. So it's my first time coaching." 
Coach Ahn is also a government and economics teacher at Castaic and brings a new perspective as well as support to the team. 
"Well first, there isn't a lot of structure," Coach Ahn replied when asked what the challenges are of coaching a relatively young tennis team at a new school, "[But] I think bringing the team together, especially with what has happened these past years, is the primary goal… [along with] creating a good team atmosphere and building good foundations to get a few more wins year after year."
In addition to Coach Ahn, who primarily focuses on coaching the JV team, the team recently recruited Coach Rob Chew as assistant coach.
"A big reason why I reached out to Coach Rob was he's very experienced, I wanted that expertise," said Coach Ahn, "Hopefully the team gets better over the years so we get competitive."
Coach Rob specializes in spot coaching. His coaching style provides each individual player with niche critiques to their form. Coach Rob is also the owner of game board company Gap Closer Games which was inspired by his desire to foster a more social activity during his days at UCLA. He has brought his drive and passion for unifying people to the tennis courts, and the team has experienced notable improvements this season with his support.
"This season has been different in a lot of ways, the first of which is that we have a new set of coaches… and they've been really great," said junior doubles player Maya Guiza, "we did get our first win against Canyon which felt really good and it felt like something we've been working towards for a long time…"
Castaic's varsity tennis made history early this season on Sept. 13 with their first win against Canyon High School. Players were overwhelmed with pride and are reflecting on their journey as a team.
"I think we've grown closer as a team… and I'm really glad that we have this bond," said Guiza. Clearly, the players and coaches have made great strides toward shedding their chaotic roots and constructing an amalgamated team.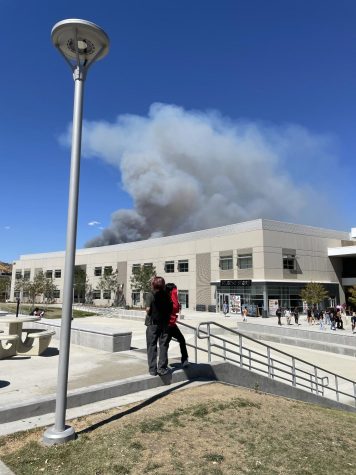 Now, the team is in the midst of their current season, which lasts until late October. Players will typically attend matches every Tuesday and Thursday, with practices held on Mondays, Wednesdays, and Fridays from 3-5 pm. However, the recent Castaic Route Fires sparked a slight shift in the match schedule due to exceeding temperatures upwards of 105 degrees and severe traffic congestion of the 5 Freeway. Practice and matches were canceled from Aug. 29 through Sept. 9.
"I think it really stalled us," commented Austria on the effect the practice and match cancellations had on the team, "being able to play, like, days in a row really increases your consistency in how you play and how well you play."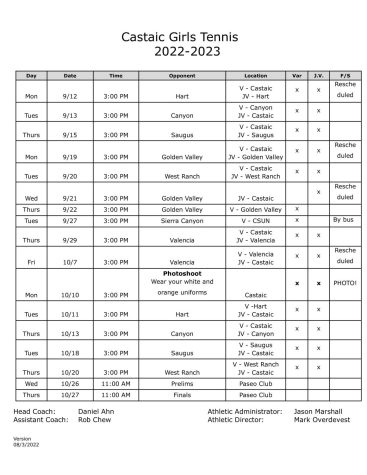 Both the varsity and JV teams have had to catch up on missed matches by playing three to four matches per week the week of the twelfth and the nineteenth, respectively. Despite the demanding schedule, the team continues to grip to their determination through sweat and fatigue.
"This season, I'm looking forward to seeing a lot of the team improve and becoming closer with them," said Austria. And she's not alone. The team has a shared sentiment of prioritizing building a greater sense of unity and camaraderie rather than the scores on the clipboard.
Ultimately, the team's shared sense of unity is what drives their successes.
"My favorite memory would probably be from last season. We had a home match against West Ranch and Leila was playing the last set and all of the girls were just sitting there waiting and watching on the court," remarked senior co-captain, Abby Barquero, as she reminisces on her memories of the team, "and I remember it was getting dark outside and she finally won… and everyone on our team ran to the courts cheering and celebrating and giving hugs and high-fives."
Sophomore singles player Kaitlyn Reimbold recalls a similar unifying experience, saying one of her "favorite memories on the tennis team has got to be the team bonding experiences, like Menchie's and the banquet, because… [we] felt like a really unified team and [it was] really nice when we all came together."
As the seniors finish their last season at Castaic, they leave a legacy for future players: one of leadership and perseverance.