Jr Movie Night Canceled, Admin Vetoed Prom
The junior-only drive-in movie night was set to happen Friday, April 22 but was canceled three days before due to not enough in-advance ticket sales and possible rain and wind threat. 
Ferris Bueler's Day Off was set to play in the parking lot for juniors to attend and have popcorn and hot chocolate along with tacos catered by Tacos Esmeralda. The drive-in movie night, presented as the activity for juniors in lieu of a prom this year, will not be rescheduled. Students who paid for a ticket will be refunded. 
"We will take care of getting the money back to the students that paid for it," said ASB director, Mark Overdevest in an interview with The Daily Howl. He explains the major reason for the movie night cancellation: not enough tickets were sold in advance. 
"We sold less than a dozen tickets," said Overdevest."I'm not willing to risk your student funds for a failed event." 
ASB began selling the $20 junior drive-in movie night tickets two and a half weeks before the scheduled event in order to provide time for students to purchase them online or in the student store. However, the majority of students elected to purchase their tickets the day before or at the door. 
"I bought my ticket for the movie night the day before it was canceled," said Sienna Harris, a Castaic junior. "But my friends were planning to purchase theirs the day of because they were waiting on paychecks." 
"I hadn't purchased my ticket yet because I needed to make sure people I felt comfortable with would be attending as well," said Scarlett Kleinfeld, a junior at Castaic.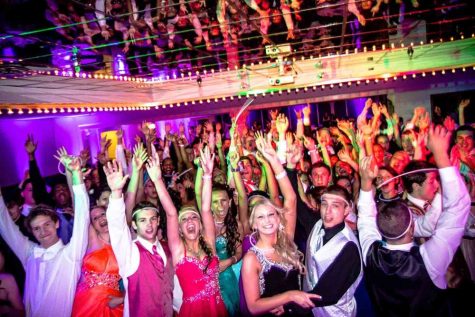 Sorry, there was an error loading this poll.
Unfortunately, the juniors were not informed that tickets needed to be purchased in advance or else the event would be canceled. 
"The reason we put tickets on sale early [is so] we can estimate how many people are coming and make sure we have everything in place to accommodate that many people and cover our expenses," said Overdevest. "If we're a week out or two weeks out and we are thousands of dollars in the red we can say 'hey we're going to cut that [and] we're going to pull this out' and bring that budget down so we make sure that we break even." 
When it comes to rescheduling this event for the inaugural class of Castaic High School, Overdevest said that the drive-in movie night will not be rescheduled. He explained this is due to CAASPP and AP testing, athletic events, and the fact that the vendor ASB uses, SOS Entertainment, is booked due to prom season. 
"All of that culminated together and doesn't really leave us a window to reintroduce that activity," said Overdevest, "My thought on that, personally, is that it will help make your senior year that much more special."
The main aspect that drew attention to this event cancellation was the fact that this junior-only movie night was intended as an alternative to the prom that every other Junior in the Hart District got to attend at their own high school this spring.
"I was totally looking forward to having a Junior Prom…I feel like the rising senior class was deprived of dances our freshman year," said Castaic junior Sienna Harris, in reference to the fact that Castaic High School had no dances during the 2019-2020 school year. 
The fall festival and the Under the Stars winter dance were postponed numerous times due to local fires and the Saugus shooting before being canceled after the Coronavirus pandemic uprooted the school year.
"I feel like we should've had a Junior Prom because it would be an event to really unify our grade, remind us of how Castaic began with just our tiny class of 300, and provide us with a more typical high school experience," said Harris.
The inaugural class of Castaic High School pioneered every club, program, and tradition on campus; and persisted through two years of isolation in a global pandemic which resulted in a loss of over a year of their high school experience. The Junior Class has had anything but a typical high school experience and the absence of a Junior Prom only exacerbates that fact.
Students of Castaic High School started a petition and an Instagram to garner support for a Junior Prom but was unsuccessful. Instead, Castaic's juniors were promised a junior-only event, so when the movie night was canceled, many students felt let down.
"I was really disappointed when I heard that the drive-in was canceled because I was anticipating it to be such a memorable high school activity, considering we've barely had anything," said Kleinfeld. 
"Of course, we will have a prom next year," said Harris, "But a junior prom would've been exciting and given students something to look forward to."
"One of the ideas I was actually pushing for really hard, but we were told no, was a Junior Prom," said Overdevest, when discussing his role as Junior class advisor.
 In collaboration with student representatives, Overdevest brainstormed possible junior-only events for the inaugural class such as a junior class bowling night or an ice skating event at the cube before settling on the idea for a drive-in movie night. Although, in those conversations, a Junior Prom was discussed and shot down. 
"I did try to do a Junior Prom. I was told no," said Overdevest.  
The Daily Howl reached out for comment from the administration concerning the fact that ASB was not allowed to plan a prom for the junior class as Castaic. 
"No schools in the district have a Junior Prom," stated Mrs. Delawder. "The junior classes plan a Senior Prom each year. Our first senior class is next year so our first Senior Prom will be next year. The venue has already been selected by this year's junior class and it's going to be a fabulous event!" 
Despite the administration's claim that there is no such thing as a Junior Prom, at least one other high school in Hart District did have a prom for just their junior class. West Ranch High School was founded in 2004 and the junior class received a prom during the 2006-2007 school year—even though they did not have a senior class yet. An anonymous source, who volunteered as a chaperone for the dance, confirmed that West Ranch had a Junior Prom that year. The 2006-2007 yearbook includes photos of their "Junior Prom fashion show" on page 239.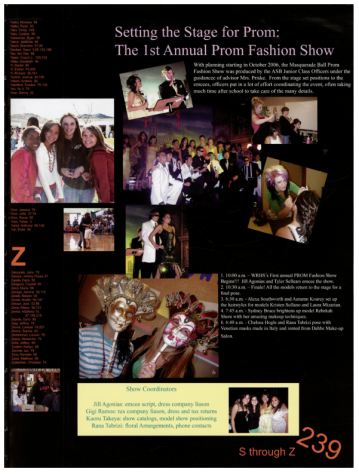 Ultimately, the students on ASB did work hard to try and secure a Junior Prom, but it was to no avail. 
"Our former president wrote essays to the administration for 3 years and consistently requested the administration to approve it," wrote Shannon Smith, current ASB student, and next year's student Ambassador. "It really was a student-driven want. I think our ASB directors played a minor role."
"There have been numerous conversations about putting on a Junior Prom," writes Isiuwa Aimiuwu, current Castaic junior, ASB student, and Junior Class President. "As the Junior Class President along with the Junior Class executive board and overall executive board have had numerous conversations with admin, to try, but it resulted with us getting the same answer, which was no."
"I think [what] it really comes down to, is an expense thing," said Overdevest, when asked about why he thinks ASB was told they could not put on a prom this year. "Each year each class builds funds into their class accounts…that money will help subsidize the cost of going to prom…[the Senior Class account] hadn't been established yet, so you didn't have those funds to put on something like a Junior Class Prom."

When it comes to preparing for senior year and making sure that future events go smoothly, the ASB class is on it. Just last month, Isiuwa Aimiuwu was voted in as Castaic's new ASB President for the 2022-2023 school year and she is dedicated to making next year a memorable one.
"I'm focused on making the upcoming Senior Prom the most extravagant one EVER," writes the new ASB President Aimiuwu. "After all, we've waited longer than other students in our district for the opportunity…I want you to know that as your president I will do everything in my power to give us an extravagant prom that you will always remember! As for our other classes, our ASB executive board and I plan on putting on amazing dances and other exciting events for you all to enjoy!"