Varsity Baseball is Pitching for a Successful Season
Walking up to the baseball field is a bit of a trek, but as I get closer I can hear the chatter of conversation, cracking of bats, and hoots of laughter. Castaic's varsity baseball team is scattered across the grass as they practice together on their newly repaired field. Some pairs of players are throwing and catching in the outfield while others are still stretching. 
The players come up to the field to practice every day from around 3-5pm to prepare for the spring 2022 season beginning this February. This time is devoted to playing out situations on the field, infield or outfield practice, and occasionally they participate in scrimmages against the JV team.
Today, the team is focusing on batting practice. Coach Paul is finishing packing the mound in preparation. 
I enter through the chain-link gate and walk onto the field, coming across Brayden Lester, No. 99,  Pitcher Only (PO) on the varsity team. As we start talking, he reflects on last season held during the spring of 2021 when he played as a part of Castaic's Junior Varsity Baseball Team.
"Last year we had to prove ourselves," says Lester. And prove themselves they did: The JV team finished the season with 19 wins and only one loss. Castaic's baseball team is heading into this season strong.
"I'm really excited because me and the guys have put in a lot of work," says Lester, "We've been training for this for about a whole year now, so you know, this is what we're here for."
"I think we're going to shock everyone."
The players do seem to be in high spirits about the upcoming season. Whether it's just anticipation or the determination to have another triumphant season, the energy around the pitch is tangible.  
"I could definitely see us holding a championship at the end of this year," says Tyler Hawn, No. 4, first base and pitcher. "I have a lot of faith in our team and I think we have the talent to do it." 
The spring 2022 season begins on Saturday, Feb. 12 with the varsity team's first home game versus Highland High School.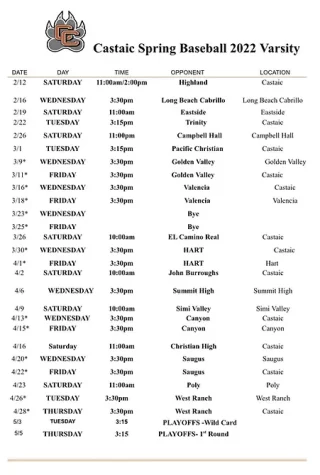 This season is going to be particularly exciting as many games will be against other varsity teams in the district. Out of the 25 games planned before playoffs, nearly half are against neighboring schools.
"I'm looking forward to playing against Hart," says Stephen Souza, No. 21 outfielder and pitcher, who transferred from Hart High School at the beginning of the year. "It's gonna be a close one that's for sure," he adds when asked about the predicted outcome for the Hart games which are currently scheduled for March 30th and April 1st. 
"I think it's gonna be close," agrees Leonardo D'Alessandro, No. 26, catcher. "It's gonna be one of the harder games and also against West Ranch because they have good pitchers." 
Pitching speed is a major area of significance for success in the season. Better performance in pitching is heavily correlated with age. Pitching speeds increase throughout adolescence and early adulthood and peak in the late twenties. 
The opposing teams Castaic is playing against this season will definitely provide a challenge as the vast majority of varsity teams include seniors. Unlike last season when the team played a lot of freshman teams.
"It got boring at times," admits Silva when reflecting on last season's success. The team played many freshmen teams along with JV teams in the spring of 2021.
"Varsity is a different level and it's going to be quite difficult," says Aaron Gonzalez, No. 23, third base.
"Yeah, but we're getting ready," adds Ethan Silva, No. 13, shortstop.
The players seemed aware of the new challenges going into this season, and are preparing for them. 
"If we work hard and we practice well, like we've been doing this past month, we'll be doing good this season," says Diego Spross, No. 55, PO, "But we gotta put the effort in."
Leading up to this season, the varsity team has been diligently working with pitching, hitting, and catching coaches to improve their skills. In order to have another successful season, they are all working to enhance individually so they can progress as a team. 
"I've been improving a lot on my pitching, mechanics, my velocity, and well, in my hitting also," says Spross, "Pretty much in everything lately."
"I definitely think my pitching has gotten better this year and I look forward to pitching a lot this year," says Hawn. 
I talked with some of the players about their personal goals for this upcoming season and what they want to see from themselves on the field. 
"Hit bombs," says Gonzalez enthusiastically, "Like hit home runs," he explains. 
"Not just one—a bunch," says Silva. 
"Like ten," adds Gonzalez, enthusiastically. 
The team also discussed more specific areas they wanted to work on. 
"Minimize strikeouts," says Silva. 
"Have a high batting average and don't make any errors," says David Cailotto, No. 28, second base and shortstop. "I hope we play good as a team," adds Cailotto. That sentiment of succeeding together as a team is shared by many of the players.
COVID-19 was a huge setback for sports last year and baseball was no different. "Getting in our work was quite difficult," says Gonzalez. 
"We were separate and not with the team," he explains, which makes sense as the energy of the players is what keeps practice alive and buzzing for two hours after school. 
Another substantial challenge faced by the team was damage sustained to the field that the team addressed back in September of 2021. 
"The grass has died and there was a lot of leakage," says Spross. "It wasn't looking good." 
The field the players are practicing on is covered in bright green grass with a freshly packed pitchers mound, so considerable changes must have been made. 
"We ended up talking in front of a couple hundred people to help our fields," says Lester explaining his experience advocating at the William S. Hart School District Governing Board meeting. 
Both Spross and Lester presented their case to the board in order to have the entire field redone in time for the spring season. The rest of the varsity team also showed up in support and around a hundred players, family members, and people from the community attended to help raise awareness about the state of the field.
"We all went," says Souza. "A few players spoke out and then we got it, we convinced them." 
Coming together as a team is something Castaic's Varsity Baseball team does best. Their strong camaraderie and spirit may be the result of the great bonds they have formed as teammates and friends. 
Aden Feliciano, No. 72 second base and shortstop, shares one of his favorite memories with his friends on the team. 
"So we're coming off practice, cleaning up the field, and the unwritten rule of baseball is not to step on the line," says Feliciano, referencing the white foul lines normally drawn on before games. "My boy David Cailotto," continues Feliciano, gesturing to his right as Cailotto starts shaking his head as he realizes the story his friend is about to share. "He puts his hands on his back and said, 'No hands, watch this' and he jumps and eats it, bro, right on his face." Feliciano and Souza start chuckling at the memory. 
"I thought I had it, I don't even know," says Cailotto, laughing it off. 
It's no wonder these guys have become friends and formed a strong team as the players truly understand what it means to be a team player. 
"Always having your teammate's back for basically anything," says D'Alessandro explaining what being a part of the team means to him, "If they have a bad day at school trying to make them have fun and make them feel better at practice—all that stuff."
After some interviews, I take a seat out on the warm metal bleachers and observe the batting practice that just started up. Lester is finally able to hook his phone up to the speakers and "Let it Rock" by Kevin Rudolph featuring Lil Wayne pumps through the air. 
"I want every swing to be like that! Great round!" says Coach Paul as Gonzalez finishes his turn up to bat. 
Coach Paul grabs another baseball from a large recycling bin standing in front of him and pitches it to the next player up to bat. Players are scattered in the outfield trying to catch the baseballs soaring through the air. 
"Relax your shoulders and let your arms do the work," says Coach Paul, advising the handful of players in line to bat. 
Ultimately, the team's passion for the sport is what drives their success. 
 "I just love playing baseball because it's something I've always enjoyed watching," says Hawn, "There's just no greater sport than it."
If you share similar feelings about the sport or are merely curious about attending a Castaic Varsity Baseball game, there are tons of opportunities to come and support the team. 
Currently, 11 home games are scheduled for the varsity spring 2022 season. Many of which are held right after school, making it even more convenient for Castaic students to attend.
"It makes us play better which will be exciting," says Gonzalez, about people showing up for games. 
The Castaic Baseball website as well as their Instagram @castaicbaseballofficial provides details about their current game schedule. This includes the nearly a dozen home games and a multitude of others located at high schools in the district planned throughout the months of February, March, and April.
"I'm just gonna leave it all out on the field," says Lester, summing up his feelings about this season. "Anyone who's bored, come on out to a baseball game. It'll be interesting."