Disneyland Upcoming Event and Attractions
Disneyland is one of the most magical places in the world, dubbed "the happiest place on the Earth." Being one of the most entertaining places in the world, many people are very interested in seeing the events that happen and taking part in them. With Disneyland being so close and convenient for us in southern California, the events and attractions happening there are more important to us and should be more well known. Because of COVID, there are some restrictions within the park. Each and every person attending the park is required to have both a valid ticket and park reservation for the same park on the same date. Certain theme parks, hotels, restaurants, and other locations may be limited in capacity and subject to limited availability or closure because of the pandemic. 
As many of you may know, the FASTPASS and Disney MaxPass services have been retired, but earlier this year they announced that Disney is coming out with the new Disney Genie Service which will be launching this fall The Disney Genie will be a digital complimentary service that will guide you through the park and give you many tips and notable pieces of information when you visit the park. The app will also serve as your own personal itinerary for your trip.  Create your very own personal tip board to instantly see your favorites. It will display current AND forecasted future wait times, helping you predict when you might experience quicker entry to attractions. With this experience you can enjoy more flexibility and fun, bringing existing planning features together in one place. By joining a virtual queue you can go to certain attractions, make dining and experience reservations, mobile order food at many locations, get help from a virtual assistant, and more.
Magic Morning and Extra Magic Hour offerings are currently unavailable due to the limit of capacity. Although select attractions and certain experiences such as parades and nighttime spectaculars will return at a later date, Disneyland is preparing for the most wonderful time of the year and is planning many events and festivities around the holidays. To enter a theme park, guests (ages 3 and older) will need a valid ticket and a theme park reservation for the same day and same park they want to visit. Also, masks are to be worn properly and restrictions must be followed. If you do not comply, you may be kicked out. 
One event that is continuing even during the pandemic is Disney Merriest Nights, which will take place on select nights in November and December 2021. Disney Merriest Nights at Disneyland takes place on five select nights during November and December: Nov. 11, Nov. 16, Nov. 30, Dec. 7, and Dec. 9, 2021. Tickets went on sale on Sept. 14, 2021, both online and through the Disneyland app. This event grants guests exclusive access to select attractions and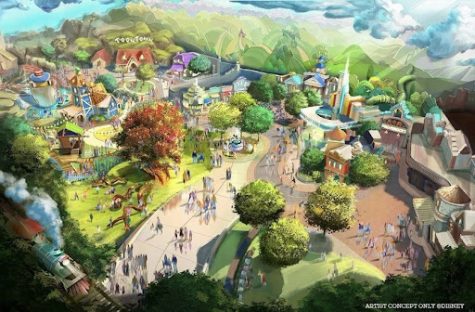 entertainment from 8:00 p.m. to midnight. Another event taking place is Plaza Point Holiday Shoppe, coming soon. Along the lines of stores an all-new, year-round holiday store is coming to Main Street USA, as the Victorian-era Plaza Point Holiday Shoppe replaces the Photo Supply Co. in Disneyland park. You'll be able to purchase Christmas decor year-round with Lunar New Year and Halloween overlays. The shop will celebrate diversity and inclusion, representing holidays and seasons such as Christmas, Hanukkah, Lunar New Year, spring, Easter, fall, and Halloween. Displays reflect seasonal holidays from around the world. Probably one of the most exciting upcoming things Disney has announced coming to Disneyland is Mickey & Minnie's Runaway Railway, opening in 2023. This new ride rolling into Mickey's Toontown will be the first major Mickey-themed ride at Disneyland. The ride features an original story, and catchy theme song, where Mickey and Minnie are premiering their newest short, "Perfect Picnic," at the El CapiTOON Theatre. Before you enter the theatre, you'll explore the special exhibit featuring props and costumes from the toon world. Then, you'll step from the human world straight into the unpredictable cartoon world of Mickey and Minnie, and board a trackless train with Goofy as the engineer. This ride along with many other new attractions is transforming Mickey's Toontown and is worth looking forward to.  
As I stated before, certain attractions, experiences, services, and amenities may be modified, have limited availability, or may remain closed. Disney in general has handled the pandemic very well and has made many safe and fun events for us to attend while still having that feeling of Disney magic. Disneyland and many of Disney's other resorts have worked hard to contain a fun family-friendly experience and the upcoming events and attractions make me want to go to Disneyland. More information can be found on the Disneyland website if you are interested!