Hispanic Heritage Month: Honoring our Hispanic American Pioneers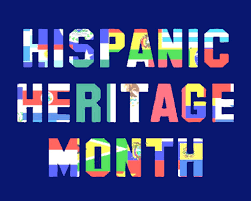 Recognizing and honoring the impact of minority communities is pivotal, especially since the arduous work and hardships that many minorities face often go unnoticed. Hispanic Heritage Month is a 30 day period (Sept. 15- Oct. 15) where achievements of Hispanic American contributors and pioneers are recognized. Educating ourselves and celebrating the work of Hispanic American champions is key in developing a culture of strength and perseverance in the Hispanic community. 
Education is powerful in terminating harmful stereotypes and discrimination against Hispanic Americans, Latin Americans, as well as any minority group. Educating yourself and others about what Latin America is and the powerful contributions its people have pioneered is key in mitigating hateful and prejudice-plagued thinking. Hispanic Americans are people of Hispanic origin who are citizens or residents of the United States. 
Caesar Chavez is an example of an influential Hispanic American who changed history. He was a civil rights activist who dedicated his life's work to la causa, a movement to ameliorate Mexican American farm workers' conditions by organizing and negotiating contracts with their employers. As a result, the California legislature passed the Agricultural Labor Relations Act in 1975 to allow farm workers the right to collective bargaining. This revolutionized farmers rights.
Dolores Huerta is a well-known advocate in the fight for Hispanic American labor rights.
Huerta co-founded the Agricultural Workers Association in 1960 and worked alongside Caesar Chavez to found the National Farm Workers Association in 1962. With a strong passion for activism for human rights, Huerta continued her protests in California, where she organized strikes for workers' rights. Eventually, she also focused on women's rights after an unlawful interaction with an officer threw her into a long recovery.
These long years of protesting led Huerta to found the Dolores Huerta Foundation, receiving several accolades, including an inaugural Eleanor Roosevelt Award for Human Rights in 1998 under President Clinton and the Presidential Medal of Freedom under President Obama in 2012. 
During Hispanic Heritage Month, make sure to honor and educate yourselves on incredible Hispanic American figures that have dedicated themselves through passion and devotion to end injustice within their community.