Complimentary Fun in Santa Clarita, Just Pay For Gas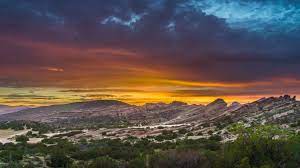 St. Francis Dam 
Just off of Copper Hill Drive and up San Francisquito Canyon Road are the ruins of the once seemingly mighty St Francis Dam. On March 12th of 1928, the dam unexpectedly collapsed as a result of poor structuring. The disaster took over 400 lives and demolished homes to humans and wildlife. However, the ruins of St Francis Dam are still open for exploration. Not much remains, but the views that the neighboring hikes in the hills provide make the trip worth it. Just be sure to bring water because it gets to be scorchingly hot! 
William S. Hart Museum 
Over in Newhall is the William S. Hart Museum offering some accounts of the past of Santa Clarita. The museum was once home to the actor and may not be open due to the pandemic, but can still be viewed from the exterior. It's a bit of a trek up the hill to make it to the site, but along the way you'll observe bison and other forms of wildlife. Be sure to check out the penned animals near the parking lot and Old Town Newhall for a Western feel! 
Towsley Canyon Park 
Towsley Canyon Park, located off of the 5 freeway in Stevenson Ranch, is a renowned hike that genuinely lives up to the hype. Along the 5.6 mile journey, there are a handful of tar pits and creeks you'll encounter. They're not gigantic and the pits are definitely miniscule compared to La Brea, but they're still unique to check out.
The Open Book 
One of the only remaining used book stores in Santa Clarita sits in Canyon Country. The Open Book provides classics and other numerous stories a second chance in new homes. Personally, I find second-hand book stores to be adventurous because you never know what you'll discover and often you're bound to pick up an obscure title that is underappreciated. 
The Farmers Market 
On Sundays, in the COC parking lot off of Rockwell Canyon Road is the Santa Clarita Farmers Market. Vendors offer fresh and organic produce, but some booths also sell dairy and nuts. The market is open from 8:30 to noon and is a great source of ingredients if you enjoy preparing meals. 
Vasquez Rocks 
Vasquez Rocks is situated in Agua Dulce and is a beautiful rock formation with a reddish hue. During the Wild West era, many bandits hid out in the rocks because they provided shelter and hidden crannies for storing treasure. Many films and television series have even used the location for filming due to its recognizable construction. 
Placerita Nature Walk 
The Placerita Canyon State Park was once home to the Tataviam Native American people and still houses the Oak of the Golden Dream. The oak was where Francisco Lopez found gold flakes on the roots of an onion (if you'll recall from elementary school). The park contains significant amounts of history and is home to wildlife, so respect the trails.