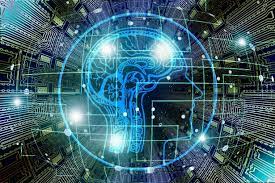 From ChatGPT to robot-controlled cars, and even the infamous Snapchat AI, it appears that Artificial Intelligence is becoming more and more popular as time goes on. Castaic High School's students and staff have mixed opinions on using AI in the school environment. 
A well-known AI being used is ChatGPT. ChatGPT stands for Chat Generative Pre-Trained Transformer and was developed by an AI research company, OpenAI. This chatbot can comprehend our "natural human language" and create a response accordingly. It also has the ability to generate a vast variety of images, ranging from life-like faces to landscape paintings. 
"Personally, I find that ChatGPT only aids me since I only use it as a tool to support me, rather than depending on it," said an anonymous CHS student. 
Mr. Williams, Castaic's AP World History teacher, seems to be one of the few teachers who thinks AI is an impressive tool. 
"The fundamental thing that I think is… AI is an incredibly powerful tool. I think it's very useful for almost everyone." Although it's a useful tool, he warns that it shouldn't be used as a crutch. 
 "Learning how to think for yourself, write for yourself, read for yourself, and do all those things for yourself is a very important first," adds Williams. "Once you have that core skill set and you're pretty competent on it, then AI can be an awesome tool…to save you time or to kind of help you refine some of those practices."
Mr. Williams uses AI for his classroom as well as personal use, like starting up a new presentation or organizing ideas. Students in his AP World History classes share their opinions on an Artificial Intelligence chatbot, Class Companion, that provides instant feedback to students' responses on questions relating to the class.
"I really liked using Class Companion because it gives me a quick response to my answers," notes Fernanda Matias. "The swift feedback is an efficient way for me to learn what I'm doing wrong." 
Although some students welcomed the idea, others despised it.  
"It was just really frustrating! I was just not a fan," says Jules Perez, a sophomore.
Algebra One and Surveys/Stats teacher, Mr. Villareal, has a similar opinion to Mr. Williams. He states that there are appropriate times when ChatGPT can be helpful.
"It's a useful tool…I'm sure it can be abused but it's like everything, you know… Everyone just uses the internet nowadays and it's just a good resource, right?" 
Mr. Villareal has already encouraged the use of AIs in his Surveys and Statistics classes. He lets students refresh their memory on topics they have a hard time remembering.
"I told them to fill in the gaps with Google or ChatGPT," states Mr. Villareal.  
Although most people will agree that AI is a great tool, some feel otherwise. 
"I disagree with it," states Spanish teacher, Ms. Villalvazo. "It takes away from the students' creativity [and] imagination. It basically provides everything for them instead of them thinking for themselves."
The downside of using an AI in school is that students won't retain the material being taught or develop essential skills needed for the future. ChatGPT has the ability to  write detailed essays that could potentially slide past teachers and earn students an A. However, some information generated by ChatGPT is not necessarily correct and can be potentially offensive. According to OpenAI's website, they stated that although they tried their best to make the AI "refuse inappropriate requests," it can still respond to crude instructions and put out biased information. 
New York City's Department of Education, Seattle Public Schools, and Oakland Unified in California have all moved to block ChatGPT  back in January of this year. Several universities also pushed towards an AI-free curriculum.
"It's only right for us to make sure that our students are prepared for their next level of education," says Mrs. Sumpolec, an English and Journalism teacher. "If they're not able to use it there, then they have to learn how to do those steps here."
AIs have become a controversial topic, and the pros and cons list can go on. In the near future, these impressive AIs, including ChatGPT, are going to become more and more complex. Although AIs can be a valuable resource, students should remember not to abuse it. It can seem like a good idea now, but it can cost them in the long run.
"I want everyone to… find ways to be creative. To use your brain," expresses Sumpolec. "Sometimes, that just takes you sitting and thinking about things, and pondering things, and looking at things. That piece is just as important to writing as anything else."