Are They Worth the Hype? Trendy Mascara Review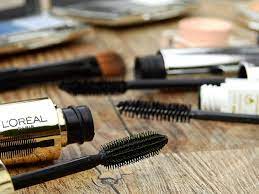 My hunt for finding the perfect mascara seemed never ending and I know I'm not the only one. Finding a mascara that checked off every box has been nearly impossible. Volumizing, deepening, curl holding, and lengthening; smudge proof, clump proof, and transfer proof— all coveted attributes. So which mascara can master every category? 
Over the next 10 days, I will test out three of the most trending mascaras on the internet. I'll wear each mascara for two days in a row to confidently and accurately rate them. Each mascara will start at a zero out of five rating and will gain points for its redeeming qualities. 
Maybelline's Sky High, L'Oréal's Lash Paradise, and L'Oréal's Telescopic are all mascaras that have gained quite a bit of popularity over social media— more specifically, TikTok. But are they really worth the hype? 
Maybelline's Lash Sensational Sky High Mascara 
Maybelline itself is a trusted brand when it comes to mascaras, but the internet went especially crazy over this product. Reviews covered everything from "This mascara tested beautifully" to "I'll keep using this mascara to the day that I die!!" The Maybelline website claims that the mascara is "Long lasting" and "delivers full volume and limitless length." Let's see how much of that is true. 
Starting with the applicator, the thin wand makes it easy to be more precise without the mess. The down side to a thin wand would be that it's more likely to make the lashes look clumped together because the product is being coated over the lashes rather than between the lashes.I noticed that it made my lashes clump together, giving them a 'spidery' appearance.On the plus side,Ididn't notice much flaking, smudging or transfer once dry. The promises of long lasting, and extreme lengthening effects proved to be true. If you are someone who values lengthening over everything, this is the mascara for you. 
Overall my rating would be a three out of five.
L'Oréal
Voluminous Lash Paradise Mascara
L'Oréal also maintains a strong reputation when it comes to mascara and cosmetics in general. Personally, I have seen a couple videos on my tiktok about this mascara, so I was excited to finally have an excuse to buy it. The product description claims to provide  "voluptuous volume and length, for feathery soft lashes." 
Again starting with the applicator, the wand is thicker with longer bristles.I personally prefer this since it allows for even coats throughout the lashes. The first layer was very pretty and the claims of 'feathery' lashes were fairly accurate. However, by the second layer, my lashes looked stiff and borderline clumpy. There was a little more volume with this mascara compared to the Sky High, but definitely not as lengthening. I did notice some smudging and transfer with this mascara which is a deal breaker to me. 
Overall my rating would be a three out of five.                                                                                               
L'Oréal
Telescopic Mascara
This is another L'Oréal product so it is already held to high standards, but the constant talk about it on social media makes expectations even higher.  According to Ulta's website "L'Oreal Paris Telescopic Original Mascara enhances your lashes with legendary length and ultimate definition." Let's see how accurate this product description is!
The wand on this mascara is very similar to the Sky High mascara: thin— so I feel like I ran into the same issues as I did with that mascara. It was very clumpy and made my lashes look spidery. There was also a lot of stiffness. I also noticed a fair amount of flaking. This mascara was also more lengthening than volumizing, but still not as lengthening as the Maybelline Sky High. I think these two mascaras are similar, but the Sky High is a little better in my opinion. 
Overall my rating would be a two out of 5. 
Social media spreads information faster than anything else, especially in this generation. And it's hard to find real, unfiltered opinions. These mascaras all had high ratings and good opinions, but personally none of them stood out. Everyone prefers something different. I hope this gives more of an honest and raw opinion.