The New Leader of the Pack: Mr. Ferry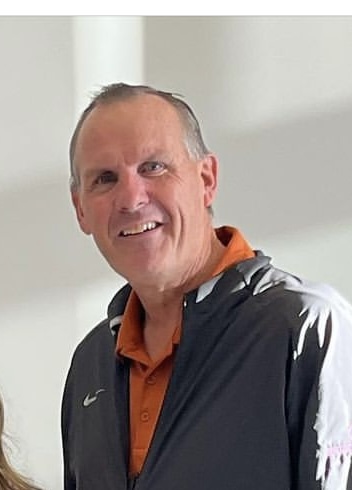 Castaic High School is honored to have a new principal this year. Vince Ferry has been a great pack leader, working actively to make our school a better place. Education is a demanding career, but this is no challenge for Mr. Ferry. Instead, he takes it head-on, ready for the next challenge. With a retired principal father and brothers involved in education, Mr. Ferry was influenced by his family to pursue the rewarding career. His wife, Kathy Ferry, is also a new counselor on campus. The Ferrys have been a blessing to this school.
The 2022-23 school year will be Mr. Ferry's 29th year in education. He has expertise in special education, has taught as an activities director, and previously worked as an assistant principal. He has been involved all over the district and plans on staying at Castaic High School for the rest of his career. 
Starting high school can often be brutal, especially as a new student tasked with making new friends. Leaving old friends and having to make new ones is hard. Faculty and staff go through the same thing. Mr. Ferry shared that his wife was a counselor at Valencia for 24 years, and leaving her "family" at work was challenging. However, as students, we can make a point to go out of our way to show kindness to them. They came here to give us a better education environment, the least we could do is share a friendly smile and a greeting in the hall. 
Our principal emphasizes his happiness in working with students. 
"[High school]  is a time of excitement; anything is possible," he says. "With teenagers comes this energy, and I feed off of that energy." He also commented on the "joy" he receives from working with students. Mr. Ferry shared that the ideas of the school do not only come from him. He aspires to support the teachers with whatever they need and plans to listen to the students and staff on their visions proactively. Mr. Ferry wants to provide any possible resources to teachers who can positively affect the school, like Mr. Williams, who started the speech and debate club. He received the Golden Coyote Award from Mr. Ferry for teacher of the year. The teachers here have a great role model to follow, making teaching much easier.
"Goofball" is the word he used to describe his personality. Being able to get the faculty and student body to trust and respect you is a tricky thing. However, Mr. Ferry has done both successfully. 
"I am so impressed with how Mr. Ferry continuously demonstrates his love and care for our community by being present and available to staff and students daily. By simply coming out of his office and engaging with all of us," Mrs. Sumpolec, the Journalism and English teacher, emphasized. As a result, Castaic High School's community has united like never before, making this school year extra special.
Students crowding the campus is a sight Mr. Ferry will never tire of seeing. He said he loves talking to teenagers to get their points of view and understand what they're thinking and feeling. Tayla Salazar, grade 11, highlighted her appreciation for Mr. Ferry's actions stating, "I love the way Mr. Ferry connects with students on a personal level." If there is a problem, he does a great job dealing with it and ensuring everything is running smoothly.
As the year ends, our seniors come closer to moving on to bigger and better things. Mr. Ferry enjoys seeing the first graduating class fly out of the bird's nest. Some advice to the seniors from our principal is: "It never gets easy, no matter what, always grind. Do better than what you are doing now." 
"We have motivated students here… they will always work towards the next phase or job. We will always face challenges, but we must keep grinding. There is no escaping hard work; work through it." 
The 2022-23 school year has been a success. Calling for Mr. Ferry's attention is simple; he will make time for our concerns no matter what he is dealing with. His welcoming environment makes addressing situations with him more accessible. We are fortunate to express our opinions without being looked down on or having them brushed under the rug. I am excited to see what else Mr. Ferry has for this school.