California's Winter Storms: What are they, and where did they come from?
On Dec. 31st, 2022, Northern California was hit by a massive storm — one so big that it flooded parts of San Francisco and devastated communities within a matter of days. This foreshadowed several more storms to come and begin to pour over all of California, flooding many more towns and cities across the state.
Meteorologists refer to it as an "atmospheric river," which is exactly what it sounds like — a long "river" of water vapor that brings torrential rain to the areas it comes upon. Atmospheric rivers are the largest freshwater bodies of water in the world, carrying up to 15 times more water than the water flow at the mouth of the Mississippi River. 
The particular atmospheric rivers that struck Northern California and the bay area came suddenly, and flooded a significant part of the San Francisco Bay Area. Naturally, it affected thousands of people who called this place home,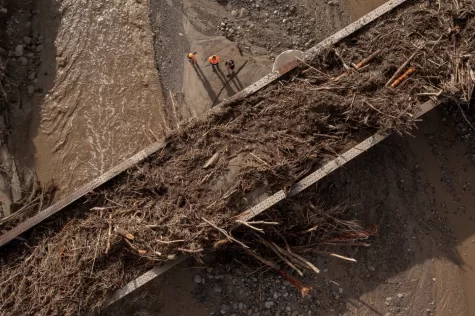 but that was only the beginning. The storms also brought disastrous change to Santa Cruz, subsequently causing a mudslide that shut down two highways, and an overflow in the San Lorenzo River, which flooded many neighborhoods.
California's winter storms have brought over 500 landslides due to over-saturated soil, caused hundreds of power outages across the state, and, since Christmas week, have killed a confirmed 19 people. As of Jan. 14th, 2023, President Joe Biden declared California to be in a major disaster, approving federal aid supplement to the state, including state, tribal, and local recovery efforts.
"We've experienced some 74 trillion gallons of water falling on this state in the last 16 days in the middle of a mega drought," California Governor Gavin Newsom told reporters at BBC News. Despite the tragedy and havoc that the storms have brought, there is a silver lining. California's drought has been brought down a significant amount. Credited to the rainfall over the past few weeks, only about 0.32% of California is considered in an extreme drought — down from 27.1% — and only 46% of California is in severe drought, previously recorded to be about 71%. Additionally, the moisture from these storms could possibly stop a state-wide tree die-off. 
While the drought in California certainly isn't over, the conditions have improved from where we were last year. With another four to five months left in California's typical rain and snow season, it's possible that residents will see even more of an improvement in the drought situation in the state. 
However, the dramatic and intense rainfall that struck the entirety of California most recently shook and undeniably destroyed several communities. While the damage that the floods have caused is extreme and devastating, the rain seems to be letting up across the coast, which will hopefully provide some relief for the affected communities.