Castaic's Clubs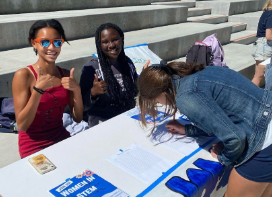 Clubs are a vital part of every high school campus offering students a safe space to explore their passions. At Castaic High School, there are many amazing clubs constantly looking for new members. Here are some of the clubs that were featured during Club Rush Day on September 21st, 2022. 
Friends of Castaic Library raises money and helps students learn to be advisors for fundraising and allocating those funds. It was founded two years ago. Their executive board includes Taidyn Kiggs as President, Daniel Jo as Treasurer, and Anika Mailey Sta. Maria. Reach out to Ms.Hermlin, the club's advisor, in the library for schedule information and to join!
Bring Change to mind has been a club since Castaic's opening four years ago. They utilize events, club meetings, and educational presentations to help end mental health stigma on campus. Additionally, they host some extremely fun activities such as therapy dogs, yoga, a meditation session, clothing drives, and a canned food drive. The executive board consists of Mia Souther as president, Ava Paulsen as Vice president, Secretary as Kristen Catterson, and Social Media director as Kendra Leroux. To join you can reach out to [email protected] or fill out this form,   The club meets twice a month on Thursdays at lunch.  @castaic_hs_bc2m for more information and keep an eye out for open leadership opportunities. 
NHS (National Honors Society) has met every first Wednesday of the month at lunch for the past 3 years. This club allows students to grow in leadership and communication. Through serving their community, they gain knowledge about scholarships, build character development, and create new bonds with peers. The executive board consists of the President: Emily Seo, Advisor: Mrs. Robb, Vice President: Shannon Smith, Treasurer: Daniel Jo, Secretary: Lindsey Coralie Nguegang, Social Media/Outreach Officer: Kendra Leroux, Lieutenant: Talya Ramirez. If you are interested in joining, email Emily Seo ([email protected]) or Ms. Robb ([email protected]) and follow castaicnhs on Instagram.
The Black Student Union provides a safe space for students of color and allies. The club sheds light on current issues and events while also teaching history involving prominent figures and their accomplishments. BSU was founded last year in February 2021 by current president Isiuwa Aimiuwu. . Other board members include the Vice President: Imudiase Aimiuwu, Treasurer: Sophia Crawford, Secretary: Shannon Smith, and Social Media Manager: Amiyah Ellsworth. Meetings are held once a month on Mondays in Mrs. Avanessian's room (257). For more information, you can contact Isiuwa by email ([email protected]) or on Instagram (_isiuwalove_). Check out the club's page (castaicbsua) for more information. 
Geology Rock club is a relatively new club, established in March 2022. Their goal is for students to learn about geology in a stress-free, welcoming environment. To encourage member growth and self-development, the executive board plans engaging activities for members to participate in such as breaking open geodes, going on hikes, making soil ribbons, and more. The board consists of President Luka Hodge, Vice President Diego Lino, Secretary Maya Puerto, Treasurer Bianca Delgado, and Officers Ava Gerhardt and Alyssa Siglar. To join contact Luka via email ([email protected]), talk to the advisor Ms. Irmischer in room 267, or ask for more information through social media. Meetings are bi-weekly on Tuesdays in room 267 at lunch.
Women in STEM started this year founded by the executive board. The executive board consists of President Lindsey Coralie Nguegang, Vice President Fernanda Matias, Secretary Isabel Vasquez, and Treasurer Regan Thompson. Meetings are held on the first Thursday of each month at lunch in room 267. The club's goal is to provide a safe and encouraging environment for the women in STEM and allies to explore new topics and create new friendships. During meetings, they discuss issues about women pursuing stem or bring interesting experiments for our members to try out. To join, reach out to Lindsey via email ([email protected]) or show up to a meeting. More information is available on their Instagram, castaic.wis. 
The Castaic Women's empowerment club began this year, formed in order to create a safe space for the women on campus. Vice President Lindsey Coralie Nguegang expresses, "It is critical that the young women of our community feel supported by their school and classmates. Fostering a bond of understanding between all women and their allies/ supporters is the first step toward greater gender equality." This club strives to accomplish its goal of equality, and serves as a safe space to allow women to interact, bond, and empower the next generation. By joining, members have an opportunity to exercise critical thinking, collaboration, and communication skills. Other executive board members include President Kylie Price, Secretary Shannon Smith, and Treasurer Rachel Burnett. Meetings are in room 229 every other Monday at lunch with Ms. Song as the advisor. To become a member contact Lindsey ([email protected]) over email and check out their Instagram (we.castaic) for more information. 
Chance Tutors provides an opportunity for struggling students to learn from their peers and improve in all content relating to academics starting in 2019. If you are interested in joining and need some extra help, reach out to President Shannon Smith in person or via email. The club meets weekly during WIN time in the library. 
Key Club started in February 2021 with bimonthly meetings on Thursday at lunch at around 12:40. Their Vice President Amanda Lee comments on why Key Club is important, member benefits, and more information about the club. According to the club, "following the beliefs of the international club, Castaic Key Club strives to uphold the 4 core values: leadership, character building, caring, and inclusiveness. This takes shape in various community service projects and fundraisers for charities. We differ from other service clubs because the network of Key Club offers many opportunities for students- from scholarships to awards to leadership positions." They help maintain great relationships with other clubs and connections within the community through meetups and collaborative projects. If you are interested in joining this year, there will be events planned where students can earn service hours and meet current members from other schools while helping their community. The board consists of President Katie Lien, Vice President of Media Danielle Estagle, Vice President of Outreach Amanda Lee, Secretary Natalie Almeida, and Treasurer Nadalie Armijo. Check out their Instagram (castaic key club) and remind (key castaic) for updates on meetings and events. To become a member message Katie Lien [email protected] or the advisor Karly Rodriguez ([email protected])
Latinx Culture Appreciation Club was founded in 2020. This club strives to tap into the diverse aspects of Latinx voices by covering an array of topics during meetings. Discussions cover tools to face discrimination, growing representation,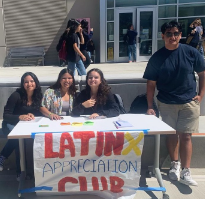 appreciating food and dance, and much more. This club works to empower members' voices and help students understand and better appreciate the Latin American community. The executive board is President Fernanda Matias, Vice President Manuel Paz, Secretary Isabel Vasquez, and Treasurer Nadalie Armijo. Follow their Instagram, chslatinxcultureclub, for updates, and contact Fernanda via email ([email protected]) to join. The club meets once a month on Fridays during lunch in room 609.
Dungeons & Dragons Club started in the 2021-2022 school year. This club allows members to experiment with, learn about, and play D&D without feeling judged or excluded. Meetings are at lunch each Thursday in room 254. The executive board consists of Parker Bradford and Hannah Dowaliby as Co-presidents and Tyler Baker as Vice President. If you are interested in joining, reach out to Parker via email ([email protected]) and check out Instagram (castaic.dnd.club) for more information. 
The president of The Castaic Speech & Debate Team, Kylie Price, founded the club 3 years ago. Through the club, students have the opportunity to improve their public speaking and teamwork skills, while exploring the art of debate. It teaches independence and strength. The Speech and Debate Club allows members to research and ponder real-world controversies through discussions in a positive, yet competitive environment. The debate club meets every Tuesday and Thursday in room 505 with advisor Mr.Williams, Vice President Shannon Smith, Treasurer Dunstan Joseph Logo, and Secretary Eliana McDowell. To join message Kylie via email ([email protected]) and follow Instagram (castaic.debate).
Classical History had some meetings last year, but officially became a club and participated in club rush day for the first time in 2022. In the Classics club, students can learn about ancient and medieval societies and cultures while meeting like-minded people. Some activities during meetings are trivia games, charades, and personalized games from different cultures in an engaging and fun environment. The executive board includes Presidents Tyler Baker and Julia Womersley Jackman, Vice president Anika Mailey Sta. Maria, and Secretary Addison Wendling. If you are interested in becoming a member contact any of the executive board members or the advisor, Mr. Welch. To learn more about the club, take a look at their website and attend one of the meetings in Mr.Welch's classroom, room 506, every Friday at lunch.  
Castaic High School's Art Club is a place where artists and those interested in the arts have a place to discuss and find a community. The President, Tyler Baker, describes the club as a "place where artists can have fun, and meet other people with similar interests." Art Club has been around since the beginning of the year and continues to hold meetings Tuesdays at lunch in room 601. The club is looking for new members that love the arts and are looking for a fun, welcoming place to spend their lunches at!
Make sure to check out some of these clubs if you're interested in joining!