Castaic High Schools Rendition of Beauty and the Beast
This semester, Castaic High Schools' Theater 3 program has worked tirelessly to produce their amateur rendition of Lawrence Boswell's Beauty and the Beast. The hardworking crew mixed with dedicated actors made the play delightful to watch. Showings were scheduled for May 17th, 18th, 19th, and 20th at 7 in the afternoon, but COVID-19 struck again canceling the last 2 showings. Fortunately, I saw the opening night cast and was amazed. The set, costumes, and overall performance were enticing and I thoroughly enjoyed watching. 
The classic tale of Beauty and the Beast was portrayed beautifully, yet Lawrence's version was slightly different than the animated Disney fairytale many people know and love. A plot twist about Esmerelda the witch shocked the audience deviating from what some viewers were expecting. Beauty still was betrothed to the beast, but iconic characters such as Gaston and Ms. Pots were not a part of the show. Nevertheless, the love story between Beauty and the Beast was still portrayed. 
It was extremely clear how much effort was put into this production, and it truly paid off. Leah Erickson, who played the role of Tigerlily, told me about the rigorous preparation that went into the play. "We had rehearsals every Tuesday and Thursday from 3:00-4:00 and sometimes we had Saturday rehearsals starting at noon and ending at 7 in the afternoon." It's obvious dedicated everyone was to put on a high-quality and enjoyable show for viewers in 3 months. 
I enjoyed the outfits that perfectly portrayed characters down to tiny details such as gears on Clocksworth's hat. Beauty's costumes stuck out due to the stunning fit and gorgeous patterns. Her outfit changes were quick and used perfectly to elevate the scenes. The Beast also had a headpiece that portrayed his hard exterior and troubled heart through different textures and shapes. 
Sets also enhanced the performance by adding interesting visual aspects to wow the audience. The mirror sequence directed by Macy Clark utilized dark lighting with neon paint and was very unique to watch. Theater 3 also used sheets and a horse face to bring the father's horse companion to life. Watching it move across the stage was very mesmerizing and helped me visualize what the character was saying. Even subtle details such as the laundry hanging in the family's home to pink lights changing the color of the castle helped the audience continue to stay engaged. Mr. Hyde and the students did a great job with sets and utilized them in great ways that drew the audience in.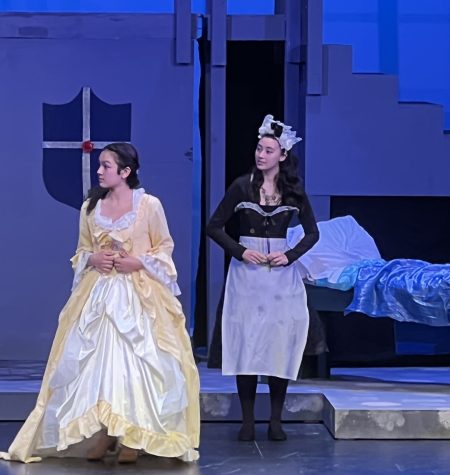 Emily Rose, playing Beauty, and Tony Stark, playing the Beast, were incredible. Their singing was fantastic to listen to and their acting was very believable. Every line was said with passion and they made sure to stay true to their characters. Sadly, I was not able to see some members of the cast that performed on the second day of the show, but I am sure they were amazing as well. The director Ms.Mistry did a great job of casting, and everyone involved was very well suited for their roles. Cast member Leah Erickson opened up about how she gets into character, "I try to put myself in the shoes of my character because it helps calm my nerves." Performing in front of an audience can be difficult, but these people put themselves out there and entertain viewers, making it seem easy. Even though sometimes mistakes were made everyone knew their lines.
Overall, I enjoyed this performance. It was very entertaining and I can not wait to see more shows in the future. Even though COVID-19 stopped Theater 3's production early, Beauty and the Beast still did a great job both nights. Make sure to check out their next performance and keep up with their progress through @castaic_coyote_theater on Instagram. Can't wait to see what production is next! 
Also, if you are interested in joining Castaic's theater program next year, sign up for the Summer Camp through the student store to prepare your skills.