Castaic's First Musical is Set to be a Singing Success
I could hear Theater 3's hoots of laughter and excited cackles before I even stepped foot inside the Performing Arts Center (PAC). Joining the crowd eagerly waiting for Mrs. Mistry, their director, to open the door, I observed the students and their hysterical elation. There was some unmistakable familiarity and comfort shared between cast members and tech crew. 
"Beauty and the Beast," the Royal Shakespeare Company version written by Laurence Boswell, will be Castaic's first musical performance featuring a variety of songs, including some in French. Mrs. Perez, Castaic's only French instructor, has been helping the cast with learning the language of love, a crucial component to the songs.
"I think this is our most ambitious play yet," said Willow Elliott. "My favorite part of this production has been learning the music."
The actors have been awaiting music to belt out for years, and it's evident in the way the theater quiets as two cast members begin. Gently, Makenna Hadjiandreou and Cece Machado begin harmonizing a soft tune. All audience members formerly carrying out various tasks have silenced, and all focus is centered on the stage. 
"I think we've all wanted to do a musical for a very long time, and the music is so incredibly beautiful in this play. I cannot wait for it to be onstage fully," remarked Elliott. 
The musical, a nontraditional take on Disney's classic, follows the familiar tale with unanticipated twists. There's no Belle in this story, only Beauty—or, more like Beauties! The show is double cast, meaning two different groups of actors will perform the same production, only on alternating nights. Emily Rose Pittman and Jamie Lee Hyde play Beauty while Tony Stark takes on the role of Beast. 
"The audience can expect a different type of experience from this 'Beauty and the Beast' that still creates a fun and magical setting," shared Pittman. "My favorite part of this production has been the incorporation of music into all the scenes, and the fun costume and set we'll have."
Fun costume and set indeed! While last semester's "Frankenstein" by Danielle Mohlman focused on 19th century fabrics and designs, the latest production has taken on a French feel. Imagine gigantic skirts and colorful vests to showcase a great French style.
Chloe Colgan, AJ Lico, and Scarlett Lang were tasked with creating these complex costumes. I had the pleasure of speaking with Colgan and was met by Lico on an unexpected FaceTime call.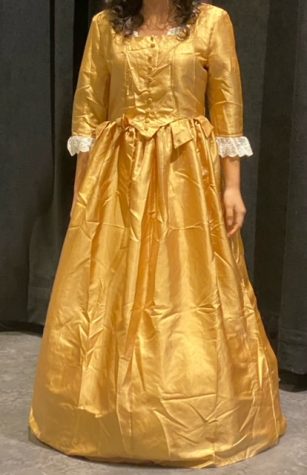 "It's very Victorian, it's not like what we're normally used to. It's theatrical," noted Lico. 
Colgan explained what French fashion the audience should expect to see in the coming month.
"The skirts are so…oh my gosh. You wrap them around—and they go out—and it makes your hips probably like 10 times wider than they'd normally be," described Colgan. 
Assistant Director, junior Macy Clark, alternated between informing me of a Tina Fey Saturday Night Live sketch revolving around "gotcha journalism" and delving into her new position in the program. 
"I've learned to take something that I love to do, like acting, and use my skills to teach and influence others in their own acting journey," said Clark.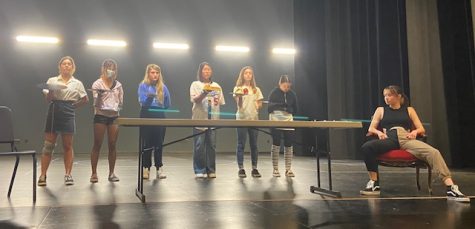 After serving as the lead in "Frankenstein," Clark is aiding Mrs. Mistry in blocking, or staging movements, for their first-ever musical. I watched as she guided the ensemble cast through a dinner scene with a collection of floating serving trays. 
"I'm most proud of the underclassmen that have joined us in the production process, and I'm excited for them to be able to act onstage with the Theater 3 class," said Clark, referring to the Theater 2 students who have joined to act in the ensemble.
You can watch "Beauty and the Beast" on May 18, 19, and 20 in the PAC. Support the theater department and come watch!