Castaic Lacrosse is Sticking Out
A sight to see: the clacking and clashing of lacrosse sticks resonating around the football field and the swoosh of balls flying from player to player. Castaic's newly formed lacrosse team lines up in rows of 5 to stretch and prepare for practice. The team is a JV team full of mostly juniors and sophomores with a few freshmen sprinkled into the mix.
The lacrosse team practices every single day on the football field from 3:30-5:30 with their orange helmets strapped on, lacrosse sticks in hand, and pads on supporting them. Their practices consist of many different exercises including practicing passing, shooting, game scenarios, and scrimmaging against one another. 
Most often though the practice is split up into three different sections with each position honing their own skills. For example, the defense portion is run by Coach Jake learning how to defend different types of opponents. The offense portion focuses on practicing plays in order to break down the opponent's defense.
As I observed the lacrosse teams session, I managed to catch Ryan Lee, No. 7 and captain of the lacrosse team, during one of their water breaks.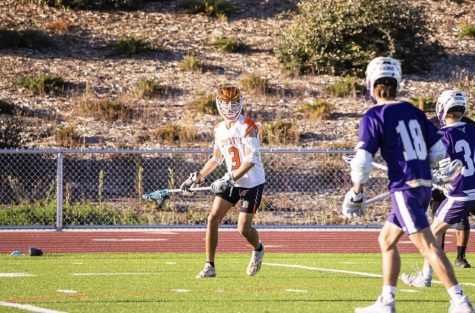 "I just hope to overcome challenges and come together as a team," explains Lee and so far his hopes seem to be coming to fruition. The JV lacrosse team has won 3 out of 4 games, winning against Hart and Valencia.
"I enjoy the pain of losing," says Ryan " It motivates me to work even harder." And it proves to be paying off. Lee this season has 18 goals and 8 assists. However, he feels like it isn't enough.
"Our team just needs to work on the fundamentals, they are the most important skill to have when playing lacrosse," expresses the team captain.
These same thoughts are shared by the other players on the team. 
"I just think we need to master the basics," says Cole Christensen, No. 10, defensive midfielder.
Since they have many new players, they choose to focus on the basics like catching and passing the ball which is crucial to winning games.
The spring 2022 season for Castaic's JV Lacrosse team began with a home game on February 12 when Castaic beat Valencia 10-1.
Unfortunately, the season is quite short and will be coming to an end after only 12 games, but the 6 games that are left are sure to be nothing short of intense and entertaining to watch. 
"Our toughest opponent is 100% Saugus," says Christensen since Saugus is the only opponent, as of right now, that has beaten the Castaic team.
"I have faith in our team that we can manage an upset the next time we play them," he adds. The next matchup against Saugus is at home on March 30.
"Saugus by far is the best team we have ever played against," says Aidan Gonzales, No. 7, Captain and midfielder. "We just could not complete a single pass and we kept turning over the ball in dangerous areas."
Catching, passing, cradling, scooping, and shooting are widely regarded as the basic skills any lacrosse player needs to be successful. The game is also highly physical as tackling and hitting people with sticks is perfectly fine. If any lacrosse player isn't able to perform these skills, then they are at a major disadvantage.
On the bright side, the lacrosse team is a JV team filled with juniors and sophomores, which gives them the upper hand when playing against other JV teams as most other JV teams only have sophomores and freshmen. This is quite the opposite from their previous seasons when their team was an even mix of sophomores and freshmen.
"Last season was pretty good for a new team," says Dylan Lynch, No. 2, defender. The lacrosse team won 3 out of the 4 games they played during the 2021 Spring Season.
"This season so far has gone way better than I expected it to," says Zach Fulp, No. 3, offense.
"I'm proud of the team for only allowing one loss this season," adds Lynch.
While the season has gotten off to an amazing start, the team isn't planning on getting too comfortable with their feats. They still admit there is much work to be done.
"I just want to keep our win percentage above 75%," says Noah Dean, No. 27, Captain and midfielder, "The only problem is we are letting up too many silly goals."
The lacrosse team is trying to rectify this problem by making defense a primary focus during their practices. They run several defensive drills like defending 1 on 1, defending as a group, and going through game-like scenarios. Coach Jake Everets, assistant coach and defensive coach, is usually the one in charge of the defense.
"I was a defender for my team when I played in high school," says Coach Everets, " So I know a good amount about defending."
Castaic's lacrosse team is motivated to make these improvements based on the goals they set for themselves. They hope to achieve their individual goals by the end of the season.
"I want to score a hat-trick every single game," says Lee
"I just want to stop as many goals as possible," says Ryker Ormes, No. 4, goalkeeper.
"I want to score my first goal this season," says Christensen.
The team also expressed their hopes as a team for the season.
"I hope to keep our record at only one loss for the rest of the season" adds Gonzales.
Ultimately, the passion and dedication that the team exhibits are the driving force behind all their success. Every player is actively involved during each game whether they are on the field or on the bench and it is mesmerizing.
"I love this team with all my heart" expresses Lee.
If you want to see the lacrosse team fight to keep their record at one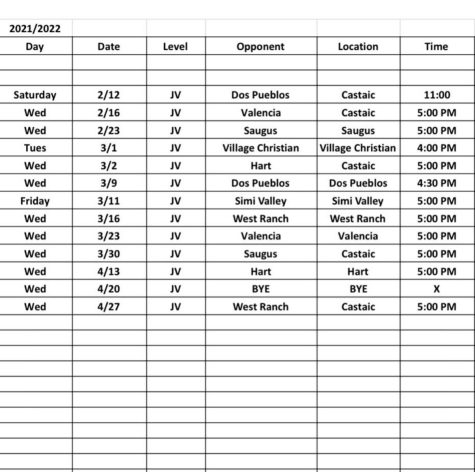 loss this season, then come out to support. As of right now, there are only 4 more home games scheduled, so if you want to experience your first lacrosse game, now is the time to do it. Two of them are at 4 PM and the other two are at 5 PM. Make sure you don't miss these games as they will be entertaining to watch.
In order to stay updated on any Castaic Lacrosse news, follow @castaic_boys_lacrosse on Instagram. Their page includes new sponsorships, information about games, and any interesting pictures from recent games.
"I'm gonna try my very best to make this team the best it can possibly be," says Gonzales.