Castaic High's Yule Ball Recap
Castaic High School had its first-ever Winter Formal on February 25th! ASB and SOS entertainment collaborated to create a beautiful Yule Ball themed dance outside in the Hub. The Yule Ball was a very extravagant dance in the famous movie and book series Harry Potter. Everyone was eager for the next event after Coho since the students found it very enjoyable. Thankfully, the formal lived up to expectations with delicious food, lots of dancing, fun pictures, and new memories over its three-hour span.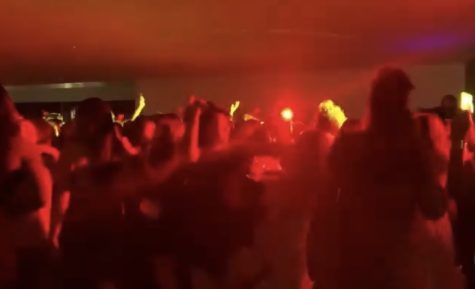 Stuffed Crepes and LA Donuts provided yummy meals many students enjoyed. Stuffed Crepes, "Delicious, Mouth-watering sweet or savory crepes made from scratch," were a huge hit! LA Donuts helped the students' sugar cravings with many unique donuts like cinnamon sugar or Nutella. ASB also provided "Butterbeer" made with cream soda, whipped cream, and butterscotch flavoring with the help of Mr. Fink. 
There were 2 picture areas set up around the food trucks and entrance. The first had a green-screen showing the Hogwarts castle as a background with fun props, and the second was a tablet showcasing the dance floor in the back. Both produced awesome pictures supplying students with a way to remember the memories. 
The dance floor was jam-packed as the DJ was vibing to the awesome beats. CO2 blasts and controlled sparkler towers made the dancers gasp and added even more fun. However, there were issues with crowd surfing and students being pushed out of a mosh pit area in the middle of The Hub. Also, some dancers felt the music was mediocre and wanted some more popular and cool songs. "Ye, Ye, Ye," was chanted by students to get the DJ to play Kanye West, and it worked. Mr. Overdevest, the ASB, and Athletic Director walked around keeping watch, breaking up the dancing if it became too crazy, and making sure everyone was in check. 
Overall, the Yule Ball was amazing even with its flaws. Many people attended in beautiful dresses and nice suits making it a night to remember. Unfortunately, this will be the last dance of the 2022 school year, but ASB will continue to work hard so the 2023 dances and events are even better!