Gift Ideas for 2021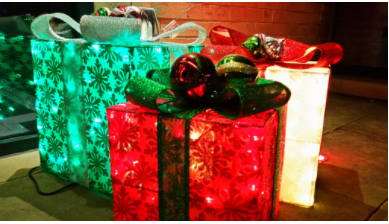 It's finally the Christmas season, one of the most stressful times of the year for many people. There are so many gifts to buy, but what do you get? Do you get something funny that you and your friends can laugh about? Something sweet and heartfelt that your loved ones can cherish? Well, there is no one correct answer, but here are some excellent gift ideas for the 2021 Christmas season.
Potato Parcel
Potato Parcel is a gift idea that appeared on Shark Tank. You can send friends and family an actual potato with a picture of your choice or a personalized note. Potato Parcel also has different bundles you can buy for Christmas and even birthdays. This is the gift to buy if you want a confused reaction from your friends.
Face Socks
DivvyUp sells socks that you can customize. You can put pictures of you, your friends, your family, and even your dog. You can put up to 3 faces on the socks and you get to pick the color you want your socks to be. This is a super cute gift that can be worn all year long. 
I Love You Necklace 
This necklace is a beautiful gift you can give to someone you genuinely love. If you look inside the necklace, it says I love you in 100 languages. You can get this necklace on Amazon. Prices vary based on which one you purchase. You can get just the necklace or you can buy one that comes with a rose in a glass box. This is a fantastic gift to show someone how much you love them.
Sunset Lamp
The sunset lamp is another gift you can get on Amazon that has been seen all over social media. It is an amazing gift for your friend that loves taking pictures. You can use different filters to change the color of the light, some of the filters look like sunset and there are also some solid colors. It is a beautiful gift to make all your pictures perfect. 
Now that you have some new ideas about what to get for your friends and family, it's time to go shopping.