The Eras of Taylor Swift
As one of the greatest musicians of her time, Taylor Alison Swift has time and time again proven to be a success. Originally from Redding, Pennsylvania, and later moving to Nashville, Tennessee, to pursue a music career, she was signed as a young teenager. One of the most captivating parts of her songs is her lyrics, which are poetic and relate to audiences. After releasing eleven albums, two of which are re-recordings of her masters, fans have noticed her "eras," or her career stages. These eras tend to change with the tone of each album she releases. Here are the eras of Taylor Swift.
Taylor Swift (2006)
At just sixteen years old, Swift's first album "Taylor Swift" debuted on Oct. 24, 2006. Two years prior to her debut album, Swift signed to Sony for a music publishing deal. Her first single "Tim McGraw" spent eight months on the Billboard country singles chart. Other hits from the album include "Picture to Burn," "Teardrops on My Guitar," and "A Place in This World." Her debut album was filled with catchy love songs like "Our Song" and heartfelt tracks like "I'm Only Me When When I'm With You." This album sold over 6,600,000 copies to date. Swift was gifted the opportunity to join Rascal Flatts on tour, leading to her gaining more attention from the country music community. Later that year, the Country Music Awards titled Swift with the Horizon Award for Best New Artist. This first era labeled Swift as a new country artist.
Fearless (2008)
"Fearless," Swift's second album, debuted on Nov. 11, 2008. This album went on to nominate Swift for multiple Grammy awards, including Album of the Year, Best Female Vocal Country Performance, Best Country Song, and Best Country Album. In addition to her Grammy nominations, Swift was nominated for best female video at the MTV Video Music Awards for "You Belong With Me." While giving her acceptance speech she was interrupted by Kanye West claiming that "Beyonce had the best video of all time." The media criticized West for this behavior, and even President Obama spoke out about the drama. This was the beginning of a complicated relationship between West and Swift. In some ways, this drama gave Swift the spotlight to reach a larger audience. While "Fearless" was a country album, it also targeted mainstream pop. "Fearless" was so successful that it "spent more time atop that chart than any other album released that decade." Taylor Swift's young, country artist reputation followed her through her "Fearless" era, which was filled with sequins and tight curls.
Speak Now (2010)
After the major success of "Fearless," critics questioned whether Swift was the true writer of her hit album. As a response to the skeptics, Swift wrote her third album "Speak Now" on her own. "Speak Now" debuted on Oct. 25, 2010. Its lead single, "Mine," was leaked to the public two weeks before its intended release date, so it was dropped ahead of schedule. The single peaked at number 11 on the U.S. Billboard Hot 100 chart. It included Swift's classic country style and pop flair, with rock elements especially present on the song "Better Than Revenge." The album was praised for its deep and apt lyrics, and songs "Dear John" and "Back to December" showcase this. In her "Speak Now" era, Taylor Swift won the Grammy for Best Country Solo Performance, Best Country Song, and Best Song Written For Visual Media for "Safe and Sound," a song featured on the "Hunger Games" movie's soundtrack made with the Civil Wars. This era demonstrated Swift's storytelling in the form of lyrics, and how she—as an independent artist—was capable of writing an album without assistance.
Red (2012)
Taylor Swift's fourth album "Red" debuted on Oct. 22, 2012. "Red" featured songs with picturesque fall scenes, including mentions of scarves, falling leaves, and hot cups of coffee. The album's lead single titled, "I Knew You Were Trouble," was her first to reach number one on the U.S. Billboard Hot 100 chart. Her new album featured a pop-country style, leading many listeners to claim it was too "pop" to be a part of the country genre. Some critics went even further, commenting on Swift's frequent history of writing about her past relationships. One Washington Post journalist claimed she needed "to start acting her age," and that he didn't appreciate her "giggles" or "posing." Nevertheless, Taylor Swift was nominated for five Grammys in her "Red" era and is still praised for songs with catchy drums such as "Holy Ground" and clever writing in "All Too Well." This era is when Swift truly began experimenting with new sounds and had her even switching to straightened hair with bangs! She traded in her signature gowns for high-waisted shorts and pinstriped shirts.
1989 (2014)
"1989," Swift's fifth album, dropped on Oct. 27, 2014. This album went on to win 3 Grammys, which were Album of the Year, Best Pop Vocal Album, and Best Music Video. Her hit single "Shake it Off" could be heard globally across radio stations and coffee shops. Within the first week after "Shake it Off" was released, it gained over 540,000 downloads and peaked at No. 1 on the Billboard charts. This was Swift's official debut entering into the pop realm and leaving her country roots in the past. "1989" showcased songs like "This Love," a soft rock song that originally started as a poem. The bonus track titled, "New Romantics" was ranked Swift's second-best song out of her one hundred and ninety-nine songs by The Rolling Stones. Taylor Swift's "1989" era featured synth-pop tracks reminiscent of the 1980s and the return of high-waisted outfits.
Reputation (2017)
In response to an overwhelming amount of hate in 2016 from Kanye West, and losing the masters to her six albums recorded under Big Machine Records, she decided to hide from the public for a full year. She spent this time recharging and writing her sixth studio album "Reputation." This album would address recent hate regarding Kanye West, drama with Scooter Braun, and her love life. The second dispute with West erupted when he made a phone call asking for permission to use her name in a song titled "Famous." Swift wasn't thrilled about the lyrics, but she agreed. However, West didn't fully disclose to Swift what he would be saying about her in the track. Long story short, West claimed in "Famous" that he made Swift famous, among other off-putting and degrading lyrics. Swift went on to address West and wrote "This Is Why We Can't Have Nice Things" using lyrics like, "therein lies the issue, friends don't try to trick you / Get you on the phone and mind-twist you." Around this time, Scooter Braun, her manager, sold the rights to her music without Swift's consent. Due to Braun's greedy and egotistical behavior, this would be her last album under Big Machine Records. The concept of her album focuses on this.  
The Reputation Stadium Tour holds the record for the highest-grossing tour in the U.S. making $266 million dollars and selling over 2 million tickets. 
Lover (2019)
After the dark pop and ultra-successful stadium tour for "Reputation," Taylor Swift went a different direction writing her seventh album, "Lover." The two subsequent albums are night and day, with Swift writing about happiness and contentment in her secure relationship. "Lover" was released on Aug. 23, 2019, and the lead single was "ME!" featuring Brendon Urie. All 18 songs from her new album charted on the Billboard Hot 100. This new era featured songs reminiscent of the end of summer, with tracks "Cruel Summer" and "Paper Rings" creating fast beats. "The Man" mentions differences Swift has noticed between the way men and women are treated in the music industry, saying "I'm so sick of running as fast as I can / Wondering if I'd get there quicker / If I was a man." Taylor Swift received three Grammy nominations in her "Lover" era, which describes themes of romance and true happiness.
Folklore (2020)
Once again shifting her style, Taylor Swift announced the release of her eighth album, "Folklore," the morning before it was released on Jul. 24, 2020. The surprise album was different in many ways compared to her previous ones; it didn't have a large release schedule or teasers, and other than the songs "invisible string" or "peace," the writing didn't feature any details of Swift's personal life. In the past, Swift had been criticized for writing about her relationships. So, she decided to create an album based off of fictional stories through the medium of songwriting. The trio of songs "betty," "cardigan," and "august" detail the story of three teenagers in a love triangle, while "this is me trying" and "my tears ricochet" depict melancholy yet relatable tales of someone trying their best and being met with failure. "Folklore" won Album of the Year at the 2020 Grammy Awards and was written with the help of producer Jack Antonoff and Aaron Dessner of The National.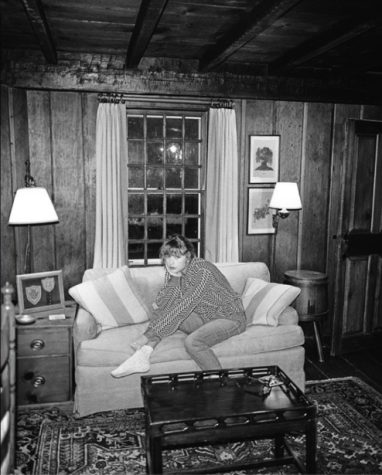 Evermore (2020)
Shortly after the release of "Folklore," Swift released "Evermore." She left a few easter eggs for her fans to find to hint at the release. A few weeks before the drop of "Evermore," Swift posted this image on her Instagram. In the background, you will see a framed photo of a willow tree. This is just one example of the many easter eggs she used to hint at the release of her new album. "Willow," the lead single, was on the Billboard charts for 24 weeks, peaking at number two.
Like "Folklore," on "Evermore" she worked with Aaron Dessner and Jack Antonoff. Swift made an effort to collaborate with a few different artists on "Evermore," such as HAIM on "no body, no crime," Bon Iver on "evermore," and The National on "coney island." 
Fearless (Taylor's Version) (2021)
Taylor Swift signed with the label Big Machine Records in 2005 at the very beginning of her career. Then, after six albums, she was signed by Universal's Public Records. When she signed with her new label, she made sure to make clear she would own her own music. However, Big Machine Records still owned her past songs after being sold by her manager, Scooter Braun. After trying to purchase back the rights to her previous music and being denied, she decided to record her old songs under the name "Taylor's Version." "Fearless (Taylor's Version)" was her first re-recorded album, released on Apr. 9, 2021. On the album, Swift's once teenage voice can be heard much deeper and richer. Hit songs such as "Love Story" and "You Belong With Me" ring in nostalgia for long-time followers. With her new album, Swift also released songs from "the vault," which are tracks she had written at the time but were kept off the album. "Fearless (Taylor's Version)" had six "From the Vault" tracks, including "Mr. Perfectly Fine."
Red (Taylor's Version) (2021)
"Red (Taylor's Version)" was released on Nov. 12, 2021, and had 30 tracks, some featuring musicians such as Ed Sheeran and Chris Stapleton. Her vault track with Phoebe Bridgers titled "Nothing New" explores how Swift felt that, as time went on, she no longer seemed like a shiny penny in the music industry. The song lyrics include, "How can a person know everything at eighteen / But nothing at twenty-two? / And will you still want me when I'm nothing new?" This re-recorded album allowed Swift to release experimental music that didn't make the original album at the time. There are many genres featured including pop, country, and "Folklore"-Esque-sounding music. A highly anticipated release for Taylor Swift fans was the 10-minute version of "All Too Well." The somber track was originally much longer but was cut down to only five minutes. Ever since "Red" was first released, fans had been asking to hear her original version, and it was finally released on her re-recorded album. The new version of the song gives insight into her relationship at the time. The album was followed up with a self-directed short film titled, "All Too Well: The Short Film" starring Dylan O'Brien and Sadie Sink.
Overall, Taylor Swift has an extensive career, starting as a fresh-faced teenager from Redding, Pennsylvania. Swift over time has crafted her music into memorable songs that are easily identifiable to anyone listening, and her eras define each of her albums and the tones throughout. As one of the top musicians in the world, she is inarguably a creative force that will be marked in history.