What is the Day of the Dead?
Dia de los Muertos (Day of the Dead) is a Mexican holiday celebrated on November 1st and 2nd  in which families use offerings such as food and drinks to welcome back the souls of their deceased loved ones for a reunion. 
November 1st is "El dia de los inocentes," also known as "Day of the Children. When midnight strikes on October 31st, the gates of heaven are opened and the spirits of children are given the opportunity to rejoin their families for 24 hours. Adult spirits then follow on the next day, November 2nd. 
The holiday originated from the Aztecs and is traced back to what is now known as modern day Central Mexico. When the Spanish conquered Mexico during the 16th century, the dates of Aztec rituals and traditions were moved to align with Catholic beliefs, November 1st being "All Souls Day" and November 2nd being "All Saints Day." Skulls were used as a main symbol of remembrance and continue to be used to this day. 
Traditionally, families build altars with ofrendas. Ofrendas are made up of candles, photos of their loved ones, as well as a collection of their favorite items. This can include things such as cultural foods and drinks (Pan de muerto, tamales, tequila, etc.) and any other symbolic item that may be important to their families. Cempasúchil flowers are a key part in Day of the Dead celebrations as they are used to guide the souls of spirits back home.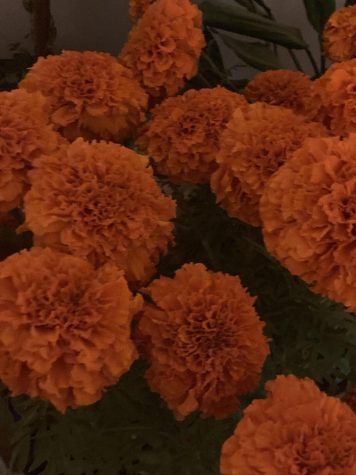 Disney Pixar's animated movie, Coco,  is based around the holiday and highlights traditions used by those who celebrate it. From the distinction between the land of the living and the land of the dead, to the importance and symbolism of ofrendas, Coco helps build a better understanding for those who do not celebrate the holiday. 
These traditions continue to be practiced annually and are an important highlight of Mexican culture. ¡Feliz dia de los muertos!