Zodiac Killer's Identity is Supposedly Revealed After Decades of Speculation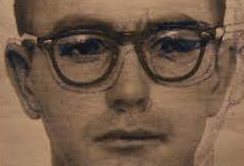 On Wednesday, Oct. 6, 2021, it was revealed that an independent group believes the Zodiac Killer—a man responsible for multiple murders in 1960's California—was a man named Gary Francis Poste, who died in 2018. 
The independent group, called the Case Breakers, is made up of 40 law enforcement officials and researchers. If true, this is an important breakthrough in the decades-old Californian case.
The "Zodiac Killer," a name he created for himself, was a widely known murderer in the late 1960's, famous for goading the police. The Zodiac Killer is confirmed to have killed five people in the late 1960's, residing predominantly in the San Francisco Bay Area. After his cases were examined by police and remained unsolved, he began sending letters to newspapers and publications. According to biography.com, the San Francisco Examiner, San Francisco Chronicle, and Vallejo Times-Herald were all publications to receive his first of many letters on Aug. 1, 1969. The letter opened with the killer admitting to his crimes, yet he did not reveal his identity. Instead, he threatened to harm more people if his letter did not make the front page of their papers. 
Until 1974, the Zodiac Killer sent letters to newspapers and police stations in northern California, taunting them for not having solved his identity. In every letter, he included a three part cifer that would reveal his identity if solved, and his symbol—a circle with a cross through it. The cifer was composed of 340 unique characters, which readers were expected to decode. For over five decades, no one was able to solve the case of the Zodiac Killer, although many theories were concocted.
According to the BBC, the Case Breakers were able to solve the case because they had "signed up eyewitnesses, filed court affidavits, and secured decades of pictures from Poste's former darkroom." Over the course of 10 years, the group compiled evidence such as police sketches and Poste's own photos. However, the Case Breakers believe anagrams of Poste's name were in his letters—something David Oranchak, a web designer who previously cracked one of the Zodiac Killer's hidden messages, highly doubts. This is due to the fact that hiding his name within the letters would be too obvious for readers to find.
After over five decades of investigations and many implausible theories, the Zodiac Killer's identity was seemingly revealed to be Gary Francis Poste. Unfortunately, Poste passed away in 2018, meaning it is now impossible to question him.