Castaic High School's upcoming Football Season
Upcoming football season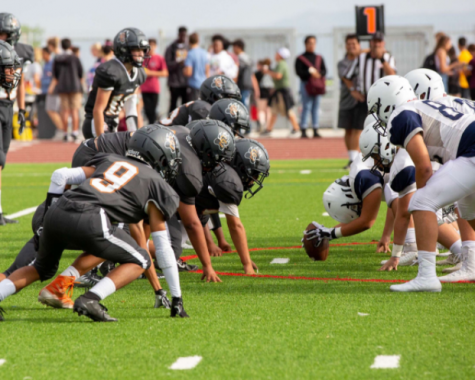 Courtesy of Castaic High School Football Parent
School just started and with it comes the beginning of astounding sports. Castaic High offers many sports and many opportunities to be on one of the teams. One of the great sports at Castaic High is football. The football team has many upcoming games In there exciting schedule this year And I was able to interview a player on the upcoming season 
I was able to catch up with one of Castaic High School's great football players, Eduardo Miron. We sat down and talked about the upcoming football season. I started off by asking him what position and number he happened to be. "I wear the number 9 and I'm a middle linebacker on defense." Miron said. Then, I asked him what a linebacker did on the field. "Middle linebackers are basically the people in the middle of the field who take care of everything." Miron responded, "We stop the ball if it's ran and we help block the ball if it's anywhere near us."
After he explained what a linebacker does and his purpose on the field, we chatted about what he is excited for in this upcoming season and if he is excited for the season. "I definitely am," Miron said. "Everyone has been hyping up the season, as well as the coaches, and it finally feels like we have a proper team so it's definitely going to be exciting." Miron also added that he was most excited about the travel aspect.
We then talked about upcoming games and I asked which game he is most looking forward to. "I'm most looking forward to all the home games," Miron said. "I think those are going to be the most exciting this year, since everyone at the school can come to those games and experience them."
We talked about what teams they played and I asked who he thought their rival would be for the season. He told me he believed that Hart High School would be their biggest rival. "They have always talked about us, and everyone basically hates us there since their offensive coach became our head coach," Miron says. The rivalry between Hart High School and Castaic High School will inevitably be a good one.
On the topic of rivals, I asked Eduardo who he thinks his team's biggest struggle this season will be. "Paraclete High School," Eduardo responded. "The biggest challenge is most likely going to be Paraclete. They are very well established, and their home games are on TV, but I believe we have a chance." On that topic, I asked him who believed the easiest team would be. "I'm not sure who will be the easiest." Miron responded with honesty. "There's no telling just from the schedule. We will have to wait and see." They were wise and extremely humble words from him.
I asked when they started to practice. "We begin practice right when school ends," Miron told me. "We stay in the weight room until 3, and then we head out to the field and leave the school at 6." They train like real winners and we sure will see all of their hard work pay off on the field.
I moved on from games and practices and asked him a few personal questions. I would talk to him about his personal life and question if he played for someone or a group of people he responded to. "You can say I play for my brother since he's been the one who has pushed me all these years to keep playing, even when I had thoughts of quitting," Miron expressed. He plays for his family and his family cheers for and supports him in return.
We talked about his number and I questioned if it had a personal meaning "My number is 9 and it does have a meaning to it." Miron told me with a smile, "My mom's lucky number is 3 and my dad's lucky number is 6. So, I added them together to make 9 and that hasn't changed since freshman year." He is a very big family man. He plays for his family at home and his family on the field.
I would then conclude with the big question any football player would get asked, if he someday would want to be in the National Football League. "I think everyone that plays football one day hopes for that, it's truly a goal that you constantly reach out for," Miron indulged. Just like every player, he hopes to be there in the future. Someday, it might play out that way if he keeps working hard.