The Effects of Makeup in Film
Since the beginning of the uprising of the film industry, makeup has been used in many different ways. Makeup is usually used as a way to build up a person's character. A specific style of makeup can show a character's mood, or simply depict what they are like as a person. 
In the HBO hit series Euphoria, makeup drastically affects both visuals and characters. Each character has their own style indicating their difference in personalities. Jules Vaughn can be pictured in the show wearing softer, lighter colors while in contrast, character Kat Hernandez is seen wearing much darker and bolder makeup. Their makeup looks are overall a visual representation of their personalities and are a form of self expression. Kats bold makeup depicts her bold personality, and the colors she is seen wearing most commonly which are red and black are a representation of her confidence.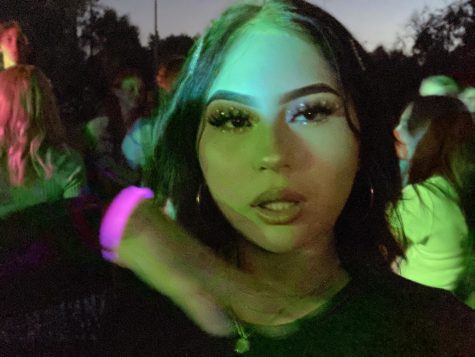 "If they're experiencing different emotions and circumstances in all these scenes, then the makeup has to be different." Head makeup artist of the show Donni Davy explained in an interview. Character Maddy Perez who is a former pageant star is usually seen wearing crystals around her eyes and sharp winged eyeliner, this is her form of self expression and something she keeps up with everyday. 
In season 1, episode 5 she is pictured without makeup for the first time, this expresses the difficult time she is experiencing and sets the overall change in her mood. With Maddy being the most put together when down to outfits and makeup, seeing her in a completely different state allows you to understand and feel the change in emotion. 
Cosmetics are the most popular form of special effects in a large array of others. In movie or television scenes where a bloody cut appears, makeup assists in creating this illusion. Though it looks extremely realistic there is in fact no actual cut. What is used to achieve this effect is a combination of moldable waxes, fake blood, and regular cosmetics such as eyeshadow for color.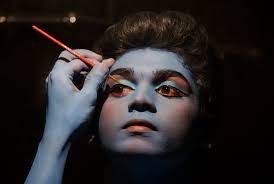 Another way makeup is used in film is in the form of prosthetics and special effects. Jim Carrey can be pictured using the art of special effects in the iconic christmas movie How the Grinch Stole Christmas. Special effects are most commonly used to create  illusions or visual effects. As pictured in some of your favorite movies or shows, special effects morph the actor or actresses face into something different. This portrays something unrealistic in a realistic way and gives you as a viewer the impression that the character is not fictional.
Prosthetics are used to achieve a much more dramatic effect and are usually necessary when a complete change in structure is needed. If a character being played requires features such as horns, prosthetics come into play. This form of special effect makeup plays a huge role in the film industry. Makeup artistry brings together and has the power to impact the total visuals of an entire film. When watching a tv show or movie good visuals are what grasp us to it and the use of makeup is what allows this grasp of attention to occur.