Inauguration or Washington Fashion Week?
Who wore what, and what was the importance?
It's been a while since we last saw the showstopping outfits that circled around the media when it came to the 46th President, Joe Biden, being sworn into office. Although that doesn't mean that we can't relive it especially since fashion has finally made its return into politics.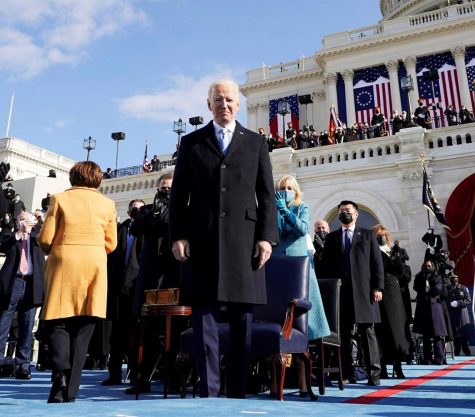 Joe Biden
Of course, we have to start with the man of the day, President Joe Biden. He's wearing a Ralph Lauren navy suit and topcoat, paired with a solid baby blue tie and every politician's favorite American flag pin. When looking at the outfit, you wouldn't think that it's a unique Inauguration outfit. I wouldn't disagree with that, this is definitely Biden's style, a simple, understated suit, and coat that gets the job done. Although the fact that this outfit was a design from Ralph Lauren gives it a whole other meaning, and no the meaning isn't that he's a rich white guy, we already knew that. Ralph Lauren the founder of the fashion house has instilled the value of American fashion from the start and defined what the male wardrobe could look like by mixing streetwear with high fashion. Supporting American fashion brands was a big theme this Inauguration, but it was important to see our President representing.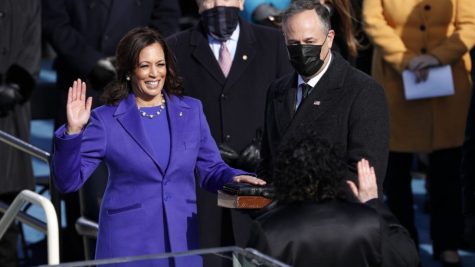 Kamala Harris
Madam Vice President serving up some straight-up looks, while making history as the first Black and Indian woman VP. Kamala Harris is repping Christopher John Rogers, a black American designer. This monochromatic look consists of a purple blouse and ankle-length coat that billows out at the bottom. If you didn't know how much intention there is in fashion, listen up because now "I'm speaking." When Vice President Harris accepted the nomination to be Joe Biden's running mate at the Democratic National Convention, she had worn burgundy, a purple variant. That night was also the 100th anniversary of the 19th Amendment, the amendment that gave women the right to vote. Which made everyone symbolize the burgundy suit as a nod to the women's suffrage movement as the movement's colors were white for purity, gold for hope, and purple for loyalty. It was a drastic change as all the women speaking that night, Clinton, Pelosi, and Warren, had all worn white, as white had been the most prominent color for the suffrage movement. She intentionally didn't wear white as her accepting the nomination and being the first woman VP was the next step for all women, and that burgundy represented a new era. This is exactly what this distinctive and bright purple outfit meant, she's ready to represent this next era for women and will do so with loyalty to the American people. This loyalty also symbolized in the mix of both blue for Democrats and red for Republicans, as she is now taking on the position of Vice President for all Americans not just the Democrats. Kamala accessorized perfectly with her signature pearl earrings and necklace by Puerto Rican designer Wildredo Rosado that was the symbol of her sorority at Howard University, Alpha Kappa Alpha. They used this symbol as they were the first black sorority founded by a group of women known as the Twenty Pearls, the pearls meaning refinement and wisdom which is what Kamala brings to the table as Vice President. Finally finished out with her American flag pin by David Yurman. The pearls by Puerto Rican designer and the American flag pin worn together promote a theme of unity. As we can see Kamala Harris takes the trophy for the most symbolism.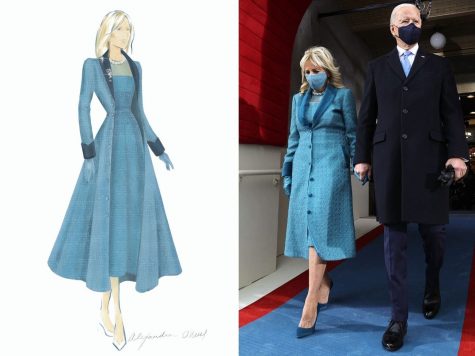 Jill Biden
Dr. Jill Biden had decided to wear a custom-made Markarian coat, dress, and mask. Jill and Markarian chose the color blue to "signify trust, confidence, and unity". Her dress consisted of a scalloped skirt, chiffon bodice, and a neckline floral pattern embellished by hand with Swarovski pearls and crystals. Worn over the dress was a tweed coat will a velvet dark blue collar and cuffs, adorned with the same Swarovski crystals. My favorite part is that Markarian had a small team the made the outfit in the New York City's Garment Center and was hand-finished by the founder of Markarian Alexandra O'Neill in her West Village studio.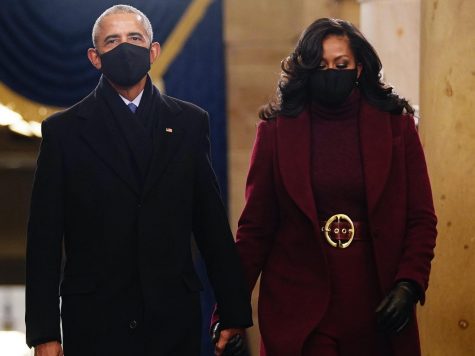 Michelle Obama
This outfit is my absolute favorite from the day from one of my favorite up-and-coming designers, Sergio Hudson. Sticking with the monochromatic look, Michelle Obama came in hot wearing a fierce plum turtleneck sweater, jacket, high-waisted wide-leg trouser, and cinched in with the perfect gold wired belt, all made by Hudson a black designer. If this looks familiar to you, almost the exact outfit was found on Hudson's runway show for his Fall 2020 collection. Along with the outfit, her hair drew attention to millions of fans. Yene Demtew, Michelle's hairstylist, put her lob in sleek curls with light-brown highlights, which he told Vogue was inspired by the ensemble Michelle wore. She even supported black-owned makeup brands by wearing products from Fenty Beauty and Pat McGrath Labs. Such a put-together outfit from the fashion icon of all politicians. Honorable mention to President Barack Obama who matched Michelle in an oversized black coat also made by Sergio Hudson.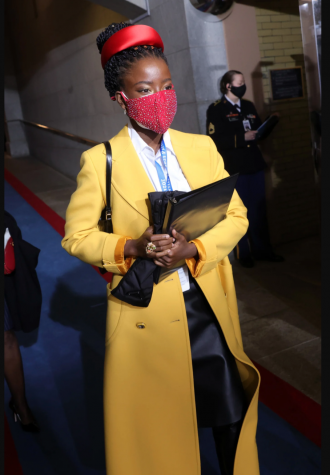 Amanda Gorman
The real star of the Inauguration was the young poet Amanda Gorman who is continuously rising to fame. She can be found wearing a double-breasted bright yellow Prada coat, a white poplin blouse, a black pencil skirt, and red satin headband. Accessorized with jewelry given to her by Oprah that would make anyone jealous, consisting of gold hoop earrings from Nikos Koulis's Energy Collection and a birdcage ring by Of Rare Origin. Stylish and powerful, Amanda Gorman is going places.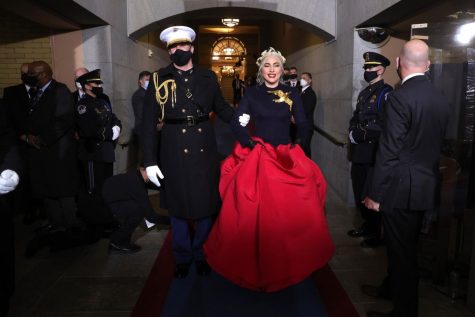 Lady Gaga
Lady Gaga coming to sing the national anthem was already amazing, but this look makes it even better. Daniel Roseberry crafted this custom Schiaparelli Haute Couture dress consisting of a navy cashmere fitted jacket and red silk faille skirt, paired with a gilded dove of peace broach that represents the olive branch between the blue and red.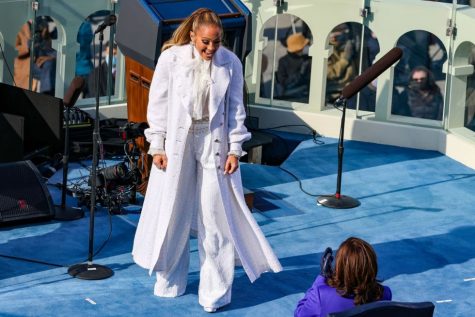 Jennifer Lopez
The white of the suffragette movement, JLo comes in looking modern and sleek with an all-white Chanel ensemble made up of a wide-leg sequined pant, silk ruffled high neck blouse, and a tweed coat. Paired with the pearls of Chanel from earrings and bracelets to belts. She really was sparkling from every corner.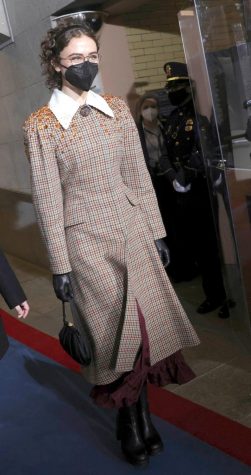 Ella Emhoff
Expected nothing else from a Parsons student (my dream school if any admission officers are reading). Ella Emhoff comes to support her step-mom Kamala Harris in a beautiful Miu Miu plaid coat bedazzled with light orange jewels and a floppy white collar. Completed with a simple black Loeffler Randall headband, she served up some real looks.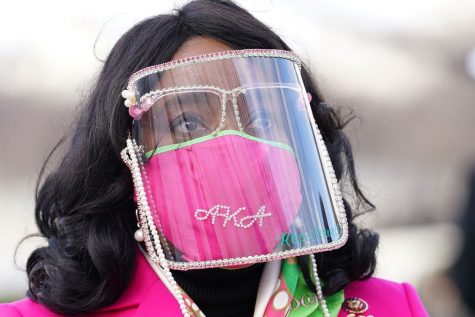 Terri Sewell
Representative Terris Sewell was really the fangirl for Madam Vice President as a fellow Alpha Kappa Alpha sister. She wears a bright pink and green outfit but the best part is the bedazzled face mask and shield with pearls and crystals galore.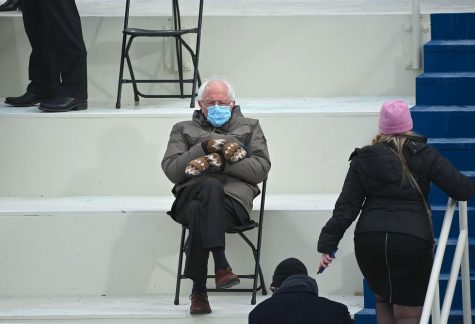 Bernie Sanders
You guys really think I wasn't going to add the icon of all icons, the man, the myth, the meme. Yes, Senator Bernie Sanders was just getting some mail, but he stirred the internet with this outfit. He's just wearing a regular camel puffer but his mittens were made by a teacher from Vermont, Jen Ellis, who used recycled water bottles and repurposed wool sweaters. Not only does Sanders bring realness to politics, but he also brings it to fashion too.
I hope you enjoyed that fashion of the Inaguration as much as I did, but in the wake of recent events, make sure you're keeping politicians accountable. As a young person you have the voice of no other and have the responsibility to use it for good, so speak up about matters that are important to you.