The Case of Gabby Petito
Many people have heard about the missing case of Gabby Petito. The case has gained so much media attention due to her popular Instagram, blog page, and also a YouTube page made for both her and Brian Laundrie, her fiance, as they were to grow their life together. I got most of my information from a YouTube video on a channel called Kendall Rae https://www.youtube.com/watch?v=AO5QAB7seAM. 
Gabby Petito was a travel influencer originally from Blue Point, Long Island, New York. She was born on March 19th, 1999. Petito was very adventurous and loved being outside, so much so that she quit her main job as a nutritionist to travel the world with Laundrie. Beginning around 2019, the pair traveled the country together, with Petito documenting their trips on social media. However, on July 2nd 2020, Laundrie proposed to Petito, and she later moved in with his parents in North Port, Florida. The two came to a decision that they wanted to travel the world together before they were to settle down, so she quit her job as a nutritionist to live the "van life" and travel the world with her fiance. 
In June 2021, the couple started their trip in New York. The couple first attended her brother's high school graduation on June 17th. The real trip started on July 2nd, 2021, when they left from Long Island on their cross-country drive. They traveled to many national parks in states like Colorado, Utah, and Wyoming. They planned on ending their trip in Portland at a friend's house towards the end of October. Petito's first post on the trip was made on July 4th in Monument Rocks, Kansas, with her caption talking about how great the start of the trip was. On July 30th, the couple posted on Instagram in Canyonlands National Park, but Petito didn't post again for 12 days.
Then, August 12th is when everything started going downhill. The police pulled Petito and Laundrie over in Moab, Utah, after witnesses saw and reported the couple getting into a fight on the side of the road. When they got back in the car, it was later pulled over by cops due to a report involving Laundrie driving dangerously. When the police pulled them over, Petito was crying and told the police they were having some personal issue
s. Later, the couple explained to the police that they had a big dispute in which Laundrie locked Petito out of their van, telling her she needed to calm down. Petito suffered from severe anxiety and OCD, so being stressed and frustrated was common for her. Officers later found out the argument had started when Laundrie discouraged Petito from starting her own blog.
Petito ended up taking the blame for why they'd been fighting all morning, and she was marked as the primary aggressor in the situation. On August 19th, a vlog was posted on their "Nomadic Statik" YouTube channel, https://www.youtube.com/channel/UCsgnE460ebvgB1I30gwuLkw, in addition to a photo of Petito's perspective from their van. The post didn't say what park they were at, yet it also tagged her fiance. This was a very unusual post for her to make, because she made sure to tag every place to make it known where she was at. 
Gabby Petito's very last post on Instagram was made on August 25th. No location was tagged once again, which was very unusual compared to Petito's earlier social media posts. Petito texted her mom for the last time on August 30th, and Petito was known for always being on top of updating her friends and family, as well as posting on Instagram to update her followers of her adventures.
On August 21st, in Salt Lake City, Utah, Petito asked her dad to order the couple UberEats. That night, Petito called her mom and informed her that they were headed next to the Grand Tetons, Wyoming, and then Yellowstone National Park. Petito was last seen on August 24th, 2021, checking out of a hotel with Brian. 
Gabby Petito's last Instagram post was made on August 25th, with no location tagged once again. Again, it was a very unusual post for Petito to make. Her last text to her mom was on August 30th. That text is also assumed not to have been texted by Petito. Since Petito was always very on top of updating her friends and family, her mom began to grow very worried.
Then, on September 10th, Petito's mom went to the police and expressed her concern, filing a missing persons report. Unknowingly, Laundrie arrived back in Florida on September 1st with the van, but no Petito. 
Police then tried to interview Laundrie after the report was filed, because he was the last person with her, but his parents intervened. The case turned into more than a missing persons report and into an investigation. Police began investigating and suspect that Laundrie was home for a full 10 days with the van before Petito's mom reported her missing. Laundrie's family hired a lawyer and refused to talk and cooperate with anyone. 
On Friday, September 17th, the Florida police went to Laundrie's house to ask about the case. His parents informed the police that he had left on a mysterious hiking trip on Tuesday, September 14th, to Venice, Florida, where the police arrived on Friday. Due to the lack of cooperation, Laundrie was ruled a person of interest in the case on September 15th. Laundrie's parents were much more concerned about him being missing rather than Petito, who had been missing for much longer. 
On September 19th, 2021, authorities in Wyoming announced a body was found in the area where the search for Petito was being conducted. The Petito family's lawyer later confirmed on September 21st that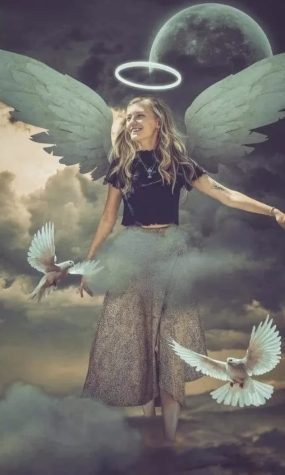 the body was identified as Gabby. Authorities assume that her body was left in the wilderness for about 3-4 weeks before being found. Now that a body was discovered and Brian was still missing, the search for him became even more urgent.
On September 23rd, a federal arrest warrant was issued for Brian Laundrie in connection with his activities after the death of Gabby Petito. On October 3rd, 2021, the Petito family announced that they had launched the Gabby Petito Foundation in honor of their daughter.
Sadly, on October 12th, Gabby's cause of death was ruled as strangulation. The search was still on for Brian Laundrie. Just a week ago, belongings of Laundrie were found in the preserve where he told his parents he went. The Medical Examiner's office in Sarasota was called to the site to confirm these items belonged to Laundrie. Along with those items, skeletal remains were also seen. Just five days ago, they were confirmed to be Brian Laundrie's remains due to his dental records.
This case is very recent and has gone very public. It has gained so much media attention, and the Petito family is so grateful for everyone that cares so much about the case. The case is still an ongoing investigation, and new information is coming out weekly. I will link the foundation that the Petito family has put together to help get justice for Gabby here. https://gabbypetitofoundation.org/