Castaic High Swim Team makes CIF Championships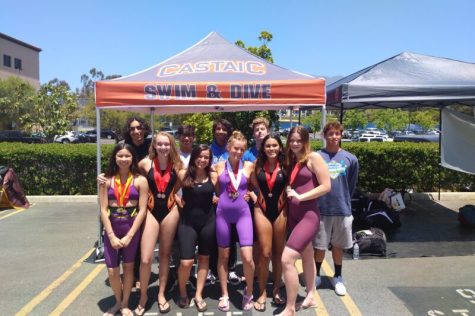 On May 29, Castaic swimmers Anika Sta. Maria, Leela James, Emily Cammarata, Delany Cowan, Emely Salinas, Brooke Harnish, Andrew Espinoza, Jake Larochelle, Ellington Thomas, and Ricardo Baldenegro attended Southern California Interscholastic Federation Championships, a collection of the best swimmers in Southern California, held at Santa Margarita Catholic High School.
Being able to compete on such a high level was a huge accomplishment, not only for the team but for the school as well, as it was the first California Interscholastic Federation competition to represent Castaic High. Although no plaque was earned, it was definitely a huge feat, it was nothing short of fantastic. "I was nervous for my swimmers, it was a competition that they had never seen before and I wanted them to do well," Coach Cody Kennedy tells me in an interview. Regardless of the circumstances, he was sure that his team would push through, and they did, getting personal bests, and exceeding what they could previously do. 
What was interesting was that coach Kennedy wasn't expecting to attend California Interscholastic Federation. So, there was little to no preparation, but the team showed incredible effort against sophomores and juniors as freshmen and sophomores. Despite being incredibly proud of his team, coach Kennedy was disappointed that his decision to remove Brooke Harnish from a 100 individual Breaststroke into the 200 freestyle cost Castaic to return from the championships without a plaque to showcase at the school. Still, even with so much going on, the team was able to display their skills and improve from what they previously thought they could do. 
"I prepared myself by having a certain mindset that I can do anything if I set my mind to do it and always think about the little strategies about swimming" Emely Salinas explains. "I drank a lot of water the day before, went to bed early, and had a decent breakfast." These types of competitions are nerve-racking. It would make sense that she went through so much preparation leading up until the day of. Salinas also shared that she was satisfied with her performance and struggled to remember what it was that she could improve on and instead continued to tell me, "I felt confident about the team's performance and that we were going to do good and I was proud of everyone."  Finally, she explained how enthusiastic she is about making California Interscholastic Federation 2022 and will do her best to mentally prepare with constructive criticism and reflect on what she thinks she needs to improve. 
Fortunately for the team, this year coach Kennedy decided to hire two assistant coaches; Mr. Brusca, the school's art teacher, and a former water polo D1 player, and Jordan, a previous West ranch swimmer. These new additions to the team play a crucial role in preparing this year's team for California Interscholastic Federation and in general to improve performance."Being able to split up groups to work on specific sets for different types of swimmers because of assistant coaches, more." Coach Kennedy tells me. "It's better this way because it focuses on different weaknesses that we find in the swimmer and their stroke, more one-on-one."  While fighting back tears, he tells me how much he values the team's persistence and effort and how it inspires him as a coach. 
50 Yard Freestyle Girls and Boys Varsity
#14 out of 16 Leela James 28.02 
#12 out of 16 Ricardo Baldenegro 24.05
200 Yard Freestyle Girls Varsity
#12 out of 16 Brooke Harnish 2:15.11 
500 Yard Freestyle Girls Varsity
#6 out of 16 Delaney Cowan 5:35.82
100 Yard Butterfly Girls Varsity 
#5 out of 16 Anika Maily Sta. Maria 28.02 
200 Yard IM Girls Varsity
#3 out of 16 Delaney Cowan 2:18.75 
200 Yard Freestyle Relay Girls Varsity
#2 out of 16 Castaic 1:50.67
1) Delaney Cowan 2) Emely Salinas
3) Anika Maily Sta. Maria 4) Leela James
400 Yard Freestyle Relay Girls Varsity
#10 out of 16 Castaic 4:15.06
1) Brooke Harnish 2) Emely Salinas
3) Emily Cammarata 4) Leela James
200 Yard Medley Relay Girls Varsity
#2 out of 16 Castaic 2:01.38
1) Delaney Cowan 2) Brooke Harnish
3) Anika Maily Sta. Maria 4) Leela James 
200 Yard Freestyle Relay Boys Varsity
#13 out of 16 Castaic 1:40.15
1) Nicolas Rainbird 2) Ellington Thomas
3) Jake Larochelle 4) Ricardo Baldenegro