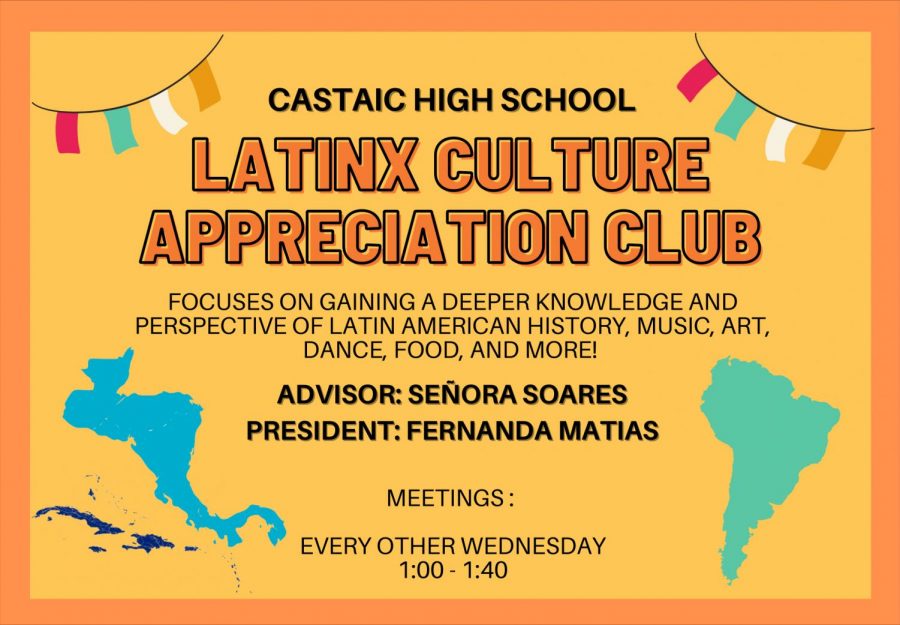 Castaic High School has recently introduced the Latinx Culture Appreciation Club, founded by freshman, Fernanda Matias. The club was founded in November of 2020, with its first meeting held on November 6th. Let's take a deeper look into what the club is all about, and club members' sentiments toward this united group.
The Latinx Culture Appreciation Club, or LCAC, is intended to educate and welcome students who are interested in gaining a deeper knowledge of Latin American culture. Isabel Vasquez, club member, stated that she decided to join LCAC because "as someone in the Latinx community, it is important to learn more about my culture and educate others." During club meetings, club members will learn and discuss Latin American history, music, art, dance, food, discriminatory acts within the community, and any other topics that play a significant role in this culture. 
LCAC stands for the belief that Castaic coyotes should be offered the opportunity to explore topics that delve into diversity and gain a greater perspective on how the lifestyles and traditions of others differ from our own, along with the opportunity to understand the history that gave rise to cultural and discriminatory patterns we, as a society, witness today. This club is meant to embrace Latin American history and create a welcoming and accepting environment for all those that would like to dig deeper into these roots. 
During meetings,  members are presented with information on a certain topic, such as facts and traditions of certain Latin American countries, taking a look at how different people identify themselves within the culture, histories of certain Latin American groups—such as Afro-Latinos—discriminatory acts within the community, and more. Nadalie Armijo, club treasurer, states that she "would recommend this club to many people because it [provides] very important information about the Latinx culture. It not only teaches us about different cultures but also gets us to interact with each other." In addition to educational presentations, there are fun, interactive activities, opportunities for club members to host and present during meetings, and an abundance of discussion—one of the most important aspects of the club. 
When asked what she believes LCAC stands for, Amber Hernandez, club member, stated, "I think it brings awareness to all [Latin Americans] which allows us all to come together to embrace one another as equal people." The promotion of awareness, education, and inclusivity of Latin American culture within the school and community is the paramount value the club stands for, especially as Southern California has a significant Hispanic and Latino population. Members of the club are constantly communicating about how they feel toward certain issues within the Latin American community, and their personal experiences with their own cultural background as well. This allows for members to gain a greater perspective on the topics that are taught. Vasquez feels that she is "definitely gaining further knowledge of the experiences and traditions that [she] had not known about before." Bestowing students the opportunity to learn more about Latin American culture allows students to better understand themselves, their peers, their communities, and the cultural patterns that surround them. The club was founded on the belief that it is only right to organize a culture club that provides a welcoming environment to all students of Castaic High.